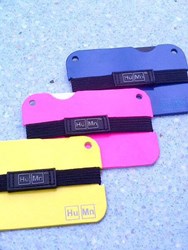 Even more secure, even more functional, and even more durable.
Portland, OR (PRWEB) August 10, 2013
HuMn makes its mark selling slim wallets made of metal plates held together with an innovative shock strap. The company is now releasing the Shock Strap 2 (SS2) which is said to make the wallets even more secure, even more functional, and even more durable.
The SS2 aids in security because it is thicker and more substantial than its predecessor.
Functionality of the HuMn wallets increases because the SS2 creates a smoother open and close action.
The new polyurethane rubber fastener, which replaces the older metal fastener, eliminates potential scratch issues making the metal wallets even more durable.
HuMn provides two slim wallet options for customers to choose from. The HuMn Wallet 2 (HW2), and the HuMn Wallet Mini.
The HW2 can carry between 8 and 12 cards depending on whether you purchase it with two or three plates. Two-plate HW2's can be customized by choosing any of the 400 color combinations. Three-plate HW2's have 4,000 combinations to choose from.
The Mini can carry up to 6 cards, plus more externally. Nearly 1,500 color combinations are available with this product.
There are a few different materials and finishes used for the metal plates on the thin wallets.
The majority of available plates are made from 6061 grade aluminum. To get the brilliant colors available in the HW2 and Mini inventories, the aluminum is Bright Dip Anodized. This process helps to keep the metal from corroding, fading, or scratching.
Carbon Fiber plates are also available in both the HW2 and the Mini. HuMn says that standard cookie cutter carbon fiber sheets were not what they wanted for their wallets. Instead they had the carbon fiber plates built from the ground up to their specifications to include a unique matte finish and the RFID shielding component, Expanded Metal Foil (EMF).
The Mini offers two more plate finish options not featured with the HW2.
First off, the Mini includes a Cerakote™ option. These plates are coated with Cerakote™ which is a military grade ceramic coating usually used on firearms and military equipment. The coating offers the ultimate in durability. Olive Drab and Desert Camel are the two Cerakote™ color options.
Second, the Mini offers a Bead Blast plate which is a natural "silver." It is not powder coated like the majority of the plates leaving it with a very smooth, matte finish that is still durable.
No matter what sized wallet or what plate material is purchased, all HuMn wallets come with a shock strap included.
For now, the included shock strap is the original strap with the metal fastener. However, the SS2 will come standard on any carbon fiber and Cerakote™ models. Otherwise, the SS2 can be purchased separately in the accessories section of the website.
Visit the HuMn website for more on the technology included in the wallets, or to see photos of these slender wallets around the world.