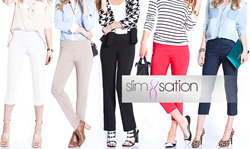 I'm so excited about this website. It's a great venue to reach our customers who are outside of our conventional area & across the world.
(PRWEB) June 19, 2014
SlimSation is proud to announce the launch of their new website, SlimSation.com. The SlimSation pants were created out of the need for a "go-to" pair of pants that would be suitable for the various daily activities and occasions of a modern woman. The comfortable, figure flattering style of SlimSation pants was created by designer John Bourgeois, and comes in a range of fashionable colors, prints and styles. They are currently available at select retailers, and at SlimSation.com.
"I'm so excited about this website. It's a great venue to reach our customers who are outside of our conventional area and are across the world. I'm glad to be in the new medium of social media & e-commerce; it's a great way to market our product in unconventional ways and maximize how great this product is currently performing. We're looking forward to the brand's further growth through social media and the website," stated Ron King, Senior VP at SlimSation.
SlimSation is a break out brand that has earned a growing following over recent years. The pants designed by Bourgeois fill a void in the women's apparel market for comfortable, excellent fitting pants that don't force the wearer to compromise on style. The material each pair of pants is made out of is easily washed, and looks fresh pressed after a whole day of wear. The new SlimSation website will allow customers to browse a larger selection than what each retail carrier has at one time, and offers free shipping along with easy exchanges or returns.
"I want the SlimSation woman to have a modern style that feels great as well! Like a favorite pair of comfy pants that also look chic and can be worn for business or casual events. So many people have to go to many different places to find the perfect pair of pants, and most natural figures don't fit into the exclusive demographic that major brand retailers cater to. SlimSation works for everyone because it conforms to your figure," stated Bourgeois.
The SlimSation website features a unique shopping experience, along with access to the SlimSation blog and social media pages. The blog currently keeps up with the latest news in fashion, and shares advice for readers looking to create cute new looks for each season that incorporate their favorite SlimSation pants.
About SlimSation
SlimSation is a growing womenswear brand that presents the slimming building blocks for the modern woman's chic wardrobe. Launched in 2012, the collection, known for unbeatable shape, sleek lines, and excellent fabric, includes pants, capris, shorts, leggings, and tops. It was designed by John Bourgeois who embarked upon the mission to design a pair of pants that women could feel great wearing without compromising on style. The SlimSation brand offers several smooth shaping bottoms from skinnies, to boyfriend jeans, to walking shorts and many more; and these products can be found at hundreds of specialty retailers across the United States. Visit their new website at http://slimsation.com/.