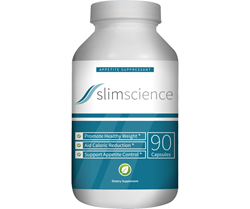 The Slim Science weight loss system has been formulated very thoughtfully, prioritizing both safety and a feasible means of effective action. - Dr. David Katz, MD, Chief Medical Advisor to Direct Digital
Charlotte, NC (PRWEB) October 31, 2013
Direct Digital, LLC, the developer and marketer of many leading wellness and nutritional supplements, including the best-selling joint relief product, Instaflex™ Joint Support, recently announced the launch of Slim Science™, an all-new, weight management program featuring both an appetite suppressant and thermogenic supplement.
Slim Science™ is unique in its approach to weight management, as the main objective of the program is to achieve a healthy body and address positive lifestyle habits. In addition, the formulations are a first-of-their-kind in this category, as both feature patented, safe ingredients which have been subjected to strict clinical review. The two-product system will initially be offered exclusively at http://www.SlimScience.com and all GNC retail stores nationwide.
Slim Science™ Appetite Suppressant, the first of the two part program, is specifically designed to assist in reducing calorie intake, while also helping to maintain appetite control. Key to the effectiveness of appetite control is the utilization of tested ingredients backed by clinical studies. Slim Science Appetite Control contains not just one - but two – ingredients utilized at the clinically studied dosage. Anchored by patented Super CitriMax® and patent-pending Satiereal®, two specially designed ingredients created to work to support healthy weight management, Slim Science's unique formulation helps support healthy diet plans without jitters, rapid heart rates or nervousness.
Super CitriMax® is a patented calcium and potassium bound fruit extract of Garcinia cambogia that contains 60% Hydroxycitric Acid (HCA). A clinical study shows Super Citrimax® helps reduce calorie intake while sustaining satiety to help maintain a well-balanced diet plan!
Satiereal® is a patent-pending, special extract derived from the flowers of saffron, cultivated throughout the Mediterranean region. A clinical study shows Satiereal® may increase satiety, decrease hunger, and reduce snacking between meals in mildly overweight women. In addition, women taking Satiereal® experienced significant body weight management over placebo.
Slim Science® Thermogenic is formulated primarily from a proprietary blend of powerful fruit and flower extracts, a unique combination known as Meratrim®. Again, paying extremely close attention to safety and science, the second product in this system also utilizes best in class ingredients, as Meratrim® is recognized as a clinically researched premium ingredient. Two randomized, double-blind, placebo-controlled research studies have demonstrated that Meratrim® taken twice a day significantly reduced body weight and waist and hip size better than diet and exercise alone in overweight subjects at eight weeks. All subjects followed a 2,000 calorie diet and walked for 30 minutes 5 times a week. Slim Science™ Thermogenic can serve as an ideal choice for a worry-free and effective addition to your weight management program.
Dr. David Katz, MD, Chief Medical Advisor to Direct Digital stated that, "I am very impressed with Slim Science, along with the company's joint products. The Slim Science weight management system has been formulated very thoughtfully, prioritizing both safety and a feasible means of effective action." Dr. Katz goes on to further proclaim that, "Slim Science displays high standards of responsible product innovation within the realm of health and wellness."
Direct Digital Co-Founder, Brandon Adcock, explained that, "We have always focused on helping people feel and be at their very best. Being overweight can affect so many areas of life, and it's gratifying to help people jump start their journey toward health and wellness." Adcock also indicated that he looks forward to "witnessing the positives changes this product system can make in the lives of so many individuals, as being able to manage your weight can literally transform a person's existence."
Slim Science™ is now available online at SlimScience.com, and will soon be available at GNC stores across the U.S. It will also complement the other health and wellness products housed within the Direct Digital portfolio, including: Instaflex® Joint Support, Lumiday® Mood Enhancement, Luminite® Sleep Support, Beneflex® Joint Relief, and Nugenix® Free Testosterone Booster.
To learn more about Slim Science™, please visit: http://www.SlimScience.com or http://www.DirectDigitalllc.com.
About Direct Digital, LLC
Direct Digital, based in Boston, MA and Charlotte, NC, is a leader in brand creation, product development and online marketing within the health and wellness space and owns such brands as Nugenix®, Instaflex®, Beneflex®, Slim Science™, Lumiday® and Luminite®. All Direct Digital products are distributed throughout North America and internationally, including Canada and the Middle East. For additional information, please visit http://www.DirectDigitalllc.com.