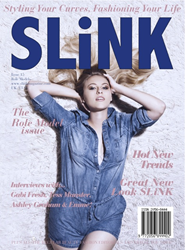 There are so many great independents, retailers and designer brands in the US all shifting their attention to plus-size and SLiNK Magazine is excited to be able to champion them in our print glossy. - Rivkie Baum, Editor in Chief of SLiNK Magazine
Los Angeles, CA (PRWEB) April 28, 2015
SLiNK Magazine, the only plus-size fashion and lifestyle glossy in print, is now available on US newsstands. In adding the US to the circulation, SLiNK Magazine is now available in 16 countries as the only plus-size fashion magazine on the newsstands. Plus-size women of this generation will finally have a fashion magazine that offers imagery with relatable physical representation! As the hub for all things plus-size fashion and lifestyle, SLiNK Magazine is Styling Curves and Fashioning Lives of curvy women EVERYWHERE.
Editor in Chief of SLiNK Magazine, Rivkie Baum, commented that: "The plus-size fashion market is one of the most exciting retail markets to be involved in right now. It is so exciting to see the US plus size fashion market not only growing, but really leading the way for other retailers internationally. There are so many great independents, retailers and designer brands in the US all shifting their attention to plus and we are excited to be able to champion them in our print glossy."
The next issue of SLiNK, The Perfection Issue will be looking at our societies obsession with idealism and encouraging readers to maintain a healthy mind, body and soul at every size. Issue 16 will also unveil the launch of 'Up, Out and Active', SLiNK magazine's new interactive fitness YouTube series (http://youtu.be/roCuJ_8LCNU), as well as a cooking series in conjunction with designer Anna Scholz that aims to educate and inspire readers about being healthy at every size. SLiNK magazine is less plastic, more fantastic.
Editor-in-Chief, Rivkie Baum will be in the US and available for Media on June 18-22, 2015. For interview scheduling and/or enquires please contact:
Delia Douglas
DDHPR
delia(at)ddhpr(dot)com
424-272-0442
Rivkie Baum
SLiNK Magazine
editor(at)slinkmagazine(dot)com
07909-548-751
To find a SLiNK Magazine retailer near you, visit SLiNKmagazine.com
SLiNK Magazine is ahead of the curve- in fact We Are the Curve.
ABOUT – SLiNK MAGAZINE:
Based in the UK, distributed in 15 countries, SLiNK Magazine is the leading printed plus size fashion magazine. Published privately, SLiNK is the concept of Editor in Chief, Rivkie Baum, SLiNK Magazine has been championing plus size fashion in print since 2011. For more information visit our website at SLiNKmagazine.com.
About – DDHPR:
DDHPR is a boutique marketing & public relations firm catering to an eclectic roster of fashion, beauty, curve, multicultural, non-profit and artist clients. For more information, please visit DDHPR.com.