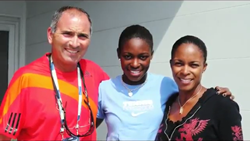 It was one of the few times that I went up to the parent and said, 'Your daughter will be a world-class player. After a year or two a lot of people are going to come running.'
Plantation, Florida (PRWEB) August 27, 2013
#HealthySmiles and 'bankable' credit - two fine qualities in a young person. And being paid to represent those two talents is a talent reserved for star power. In today's world of big-time product endorsements, Madison Avenue touts the elite in Hollywood and sports to promote million-dollar brands, and the latest Q-scoring rage is tennis' Sloane Stephens.
Tennis' 16th-ranked player on the WTA Tour has recently inked endorsement deals with Johnson & Johnson for Listerine and American Express, underscoring her emergence as the next star of American tennis. The two deals are the 20-year old's first major off-court signings.
With a combination of winning strokes, a winning smile and potential to win it all, comparisons to Anna Kournikova have started, referring to the Russian star's abilities behind a camera overshadowing her achievements on the game's biggest stages. Is that a fear for Stephens? Fortunately, her talents and training are tempered by longtime coach, Nick Saviano, and her committed mother, Sybil.
"Ever since I was really young he's told me that I could be great and he's been really positive. I think his positive influence over my tennis has really helped me a lot," says Stephens of her longtime coach and mentor.
Sybil recalls first meeting Saviano and the experience that created the trusting relationship they share today, "We met Nick through our neighbors. They were going to take lessons from a 'great technical coach' and they said we should come also. That's where this all started for us."
From where it started to a year that has included the semifinals of the Australian Open, round of 16 at the French Open, quarterfinals of Wimbledon and wins over Serena Williams and Maria Sharapova, the road has been mapped by leadership with the right intentions and the abilities to maximize a star's talent.
Saviano, a father of three daughters in South Florida where his Saviano High Performance Tennis program is based, is known for his astute recognition of talent and life's opportunities, and hurdles. "It was one of the few times that I went up to the parent and said, 'your daughter can be a world-class player.' I told [Sybil] we'll clean up her game and after a year or two a lot of people are going to come running because she's a very impressive athlete and an incredibly charming young lady."
A visionary for a coach that allows a mother to be a mother, Sloane Stephen's inner circle is going to allow her game and influence to shine on and off the court for the benefit of the game, young women and fresh-breath minded people everywhere.
Stephens is the 15th seed at the US Open and will play Urszula Radwanska (POL) in the 2nd round.