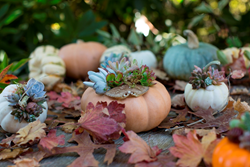 Transform the holiday table, front porch or fireplace mantel with local and seasonal flowers. Nothing is fresher or more long-lasting than just-picked botanicals. -- Debra Prinzing, founder of Slowflowers.com
Seattle, Washington (PRWEB) October 25, 2016
Instead of predictable designs or palettes of the past, creative flower farmers and florists suggest fresh and unique seasonal options such as adding hot peppers or ornamental kale to autumn centerpieces or "planting" pumpkins with succulents for harvest tables.
Come December, Slowflowers.com designers say "Season's Greetings" is best communicated with updated florals, including snowy white palettes or garlands of foraged greenery to welcome guests.
The best harvest, home and holiday florals begin with the source, says Debra Prinzing, founder and creative director of Slowflowers.com, which promotes American grown flowers.
"You can transform the holiday table, your front porch or your fireplace mantel with local and seasonal flowers, supplied by local farms or provided by florists who source domestic, American grown options. Nothing is fresher or more long-lasting than choosing just-picked botanicals. By making floral choices close to home, we're keeping our holidays more sustainable," Prinzing says.
Slowflowers.com, the free, nationwide, online directory to American Flowers, surveyed its members across the nation and collected some of the best design ideas for harvest, home and holiday.
Top decor themes for 2016 include:

Pair seasonal edibles with flowers
Adorn grapevine wreaths with botanicals
Upgrade pumpkins and gourds beyond ordinary
Elevate flowers with leaves, grains and berries
Add a touch of glam with gold
Change traditional winter floral palettes with fresh flowers
Editors: A gallery of 16 captioned Harvest & Holiday images is available for download here.
###
Slow Flowers is an award-winning online directory created to help consumers find florists, studio designers, wedding and event planners, supermarket flower departments and flower farmers that supply American grown flowers. Founded in 2014, the site has grown to 700 members across the U.S.
Media Contact:
For more information, please contact Debra Prinzing at 206-769-8211 or 844-SLOWFLO (844-756-9356); debra(at)slowflowers.com.