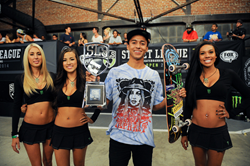 The finals are where all the elements of Street League Skateboarding come together. Next to landing the highest-scoring tricks, riders also need to factor in strategy and risk-taking to walk away with a trophy. Cody Dresser, Monster Energy
(PRWEB) May 19, 2014
Street League history unfolded at the first-ever SLS Monster Energy Pro Open this weekend, as eight newcomer pros battled neck-to-neck with 20 resident Street League Skateboarding pros for a $75k purse. After a high-octane finals, for the first time ending on a Control Section heat, unstoppable Huston walked away with another win at Nike SB's private, state-of-the-art Sixth & Mill Skatepark in Downtown Los Angeles.
One of the most exciting finals in skateboarding history saw Huston and Ishod Wair go blow-for-blow after the top spot. Ultimately, Huston took first place with an outstanding performance, including a cab flip frontside boardslide fakie down the rail for 9.4 points in the Impact Section, and a backside 270 kickflip lipslide down the rail for 9.6 points, the highest-score of the weekend in the Control Section.
Looking like a strong contender for the top spot, Wair joined the prestigious Street League 9 Club with the highest-scoring Flow Section run of the weekend at 9.2 points. Thrasher Magazine's 2013 Skater of the Year dwarfed the course with a backside smith grind on the out ledge, a backside noseblunt revert high up on the bank and frontside 270 to backside lipslide on the rail. His highest-scoring Impact Section move, a big flip front board fakie on the big rail, earned 8.3 points.
Wair's strong performance continued as the finals came down to six crucial attempts in the Control Section: Opening with another 9 Club, a frontside kickflip tailslide fakie down the big rail for 9.0 points, Wair nailed a frontside 180 to switch crooked revert on the out ledge and a switch flip front board down the rail. After Wair missed a nollie frontside bluntslide down the rail, Huston came in and sealed his victory with a nollie cab to frontside boardslide down the rail for 8.7 points.
For his victory lap, Huston threw a textbook 360 flip frontside Smith grind down the rail, winning first place with a 54.6 score at the SLS Monster Energy Pro Open and a 'golden ticket' entry into the SLS Nike SB Super Crown Championship.
Monster's Shane O'Neill also had a shot at first place with unmatched technical precision on moves such as his signature switch double 360 flip down the stairs for a 9.1 point 9 Club entry, bigspin backside lipslide across the bump to rail, and an extremely difficult nollie kickflip to crooked grind nollie flip out on the bench. Ultimately he finished in a respectable fourth place.
"The finals are where all the elements of Street League Skateboarding come together," said Cody Dresser, Director of Action Sports, Monster Energy. Next to landing the highest-scoring tricks, riders also need to factor in strategy and risk-taking to walk away with the trophy. This is what Nyjah did today, putting it all on the line for the 9.6 point 270 kickflip lip.
No stranger to strategy and risk-taking, Monster's Chris Cole started strong in the finals, nailing a frontside 180 to backward nose grind the hard way down the bump to Hubba in his Flow Section Run. Unfortunately, amidst a high-energy Impact Section, 2013's Super Crown World Champion lost his grip on a frontside kickflip to nosegrind down the Hubba for an early 7th place exit.
Monster's Matt Berger, coming in hot as yesterday's top qualifier, caused one of the biggest shake-ups in SLS history in the Semi finals: The Canadian rookie unseated a dominant Huston's 33.2 point score with a flawless performance in the Flow and Control Sections, including high-scoring tricks such as ollie over to backside smith down the handrail, nollie frontside bluntslide down the rail and backside 180 to fakie 5-0 on the Hubba for a 33.8 point score. Unfortunately, Berger ended up missing crucial tricks in his finals run in the Flow Section for an early exit with a respectable 8th place finish, but still came up by earning a spot on the Street League Skateboarding Nike SB World Tour as one of the three new qualifiers.
Other highlights of the Semi Finals, composed of five heats narrowing down the field of riders to eight finalists, included: Cole nailing a frontside 180 to backward nose grind the hard way down the bump to Hubba, Monster's Peter Ramondetta's quarterpipe channel transfer via ollie to 50-50 on the bank, and Wair's textbook nollie kickflip to backside lipslide down the rail. Not to forget Huston pulling a frontside half cab to frontside bluntslide fakie down the Hubba, and O'Neill nailing an extremely difficult nollie kickflip to crooked grind nollie flip out in the middle of his tightly stacked 8.4 point Flow Section run.
Following the high-stakes finals, all SLS Pro Open competitors had a chance to bring their best moves to a 20-minute, best-score heat, the Diamond Life After Party Best Trick Encore, with a $5,000 purse. Walking away with the $3,500 for 1st place was O'Neill with bigspin bluntslide down the rail, while Berger came in second with a backside 180 to fakie 5-0 down the rail.
For more on Huston, Wair, O'Neil, Berger and the rest of the Monster Energy SLS skateboarders check out monsterenergy.com, and for more on the 2014 Street League Skateboarding Nike SB World Tour check out streetleague.com. For interview or photo requests contact Kim Dresser.
Tune in to Fox Sports 1 to see all the action from today's contest and upcoming SLS events.
FOX SPORTS 1 TELECAST SCHEDULE:

FOX SLS Pro Open Kickoff Special: Thursday, May 29 (9:00 PM ET – 10:00 PM ET)
SLS Chicago: Live: Sunday, June 29 (7:00 PM ET – 8:30 PM ET)
SLS Los Angeles: Live: Sunday, July 27 (8:00 PM ET – 9:30 PM ET)
SLS Super Crown World Championship: Live: Sunday, Aug. 24
(9:00 PM ET – 10:30 PM ET)
###
About Monster Beverage Corporation:
Based in Corona, California, Monster Beverage Corporation is the leading marketer and distributor of energy drinks and alternative beverages. Refusing to acknowledge the traditional, Monster Beverage Corporation supports the scene and sport. Whether motocross, off-road, NASCAR, BMX, surf, snowboard, ski, skateboard, or the rock and roll lifestyle, Monster is a brand that believes in authenticity and the core of what its sports, athletes and musicians represent. More than a drink, it's the way of life lived by athletes, sports, bands, believers and fans. See more about Monster Beverage Corporation including all of its drinks at http://www.monsterenergy.com.