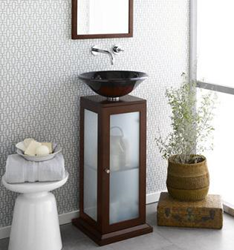 In a very small bathroom, it's worth looking beyond the standard cookie-cutter bathroom vanity widths for something a little smaller and a little better tailored to a bathroom that doesn't have a lot of space to spare.
(PRWEB) December 13, 2014
HomeThangs.com – the Online Home Improvement Store has made their goal to deliver the right product to the consumer. With that in mind, shopping and home design tips, as well as special product selections, are being introduced.
24" is the smallest standard size for a bathroom vanity, but in a very small bathroom, that will still occupy a significant amount of the available space. That said, it's possible to find specialized vanities that are even smaller, ranging from 23" all the way down to 15". These ultra-slim vanities are specially designed for very small bathrooms and take up less space without sacrificing much storage. HomeThangs.com has introduced a guide to a few styles and features of these petite vanities that are worth looking for.
Open shelf vanities are a popular choice for large master bathrooms, but slimmed down versions can be a smart option for a very small bathroom as well. A half-sized cabinet keeps toiletries close at hand, while the open shelf at the bottom is great for storing towels or toilet paper. Pillar style vanities can be even narrower, and tend to have a more functional cabinet design, with a shelf in the middle and minimal plumbing to get in the way of storage.
Efficiency style cabinets are both narrow and slim in profile, making them an ideal choice for bathrooms with a very tight floorplan. Though they don't offer much in terms of storage and have only minimal counter space, they're a step up for bathrooms that would otherwise only be able to accommodate a wall mounted sink. When shopping for vanities under 24", it's important to look for a few basic storage features, namely shelves, drawers, and matching wall mounted storage cabinets. Though these features are nothing particularly revolutionary, they make all the difference in a small bathroom, and can help maximize efficiency in a very tight space.
For more information about these petite bathroom vanities, check out the full article here.
HomeThangs.com is not only a home improvement superstore, it also provides expert design tips and a comprehensive shopping guide, taking the ideas from professional interior designers, and offering tips to the consumers on how to pick the products to best suit their needs.