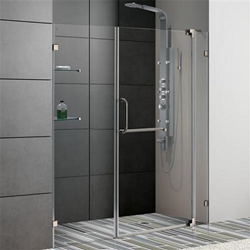 With the proper water proofing, a small bathroom can be turned into a barrier-free wet bathroom, making the most of every available inch of space.
(PRWEB) August 11, 2013
HomeThangs.com – the Online Home Improvement Store has made their goal to deliver the right product to the consumer. With that in mind, shopping and home design tips, as well as special product selections are being introduced.
In recent years, luxury showers have moved to the top of every bathroom remodel must-have and to-do list, to the point that if they've become the most important splurge in any major remodel. But in a small bathroom, finding room for any shower – let alone a separate shower – isn't exactly easy. Space constraints can present all kinds of problems that simply don't exist in a larger space. HomeThangs.com has introduced a few solutions for these common problems to help build a beautiful, open-looking shower in even the smallest bathroom.
The first rule of luxury showers is: ditch the shower curtain. Now, many people are loyal to the shower curtain and even prefer it over glass or tile. But for a finished, spa-style look, the shower curtain has to go. Plus, glass is actually a better option for a small bathroom, as the translucent surface shows off the true dimensions of the bathroom, making the space seem larger rather than cutting it off. It also lets more light into the shower, which can make the shower itself feel bigger on the inside.
That said, rigid walls of a glass shower enclosure can be a little more confining than a shower curtain, which – when attached to a bowed shower rod – can actually be slightly larger than the base of the shower. But the solution to this problem is almost as simple, at least as long as it's addressed in the planning stages: bumping out the shower enclosure has much the same effect. Rather than a square, look for a wedge or diamond shaped shower floor. These angled showers take up a little less space than a square corner shower while affording a little more elbow room.
One of the biggest problems with glass shower doors in a small bathroom is the one that's also the easiest to overlook: clearance. On a shower/tub combo, the shower doors typically slide side-to-side (a little like a shower curtain), but in a standalone shower, the doors often swing outward. In a small bathroom, or one that isn't organized just right, opening the shower door can block other fixtures – or, worse yet, the fixtures can actually block the shower door from opening all the way.
Once again, though, the solution is surprisingly elegant: just don't include a door. Because of the way water falls, a properly installed shower head won't require the entire length of a shower to be blocked off. In fact, only a small portion needs to be shielded to prevent the majority of the water from escaping. So instead of a full shower enclosure, consider opting instead for a luxury shower with a single glass panel affixed to the wall alongside the shower head. This creates a clean, modern look and can actually cost less than a full enclosure, too.
If privacy is a concern, a tiled shower enclosure will work, too. Now, a fully enclosed space made entirely of tile isn't a great choice for a small bathroom. Not only does it take up a lot of space, but closing the shower on all sides with tile can make it feel cramped, and without a special waterproof lighting fixture on the ceiling of the shower, it can be quite dark. That said, as with a glass shower wall, even a small protrusion can keep water inside while creating a much more open feel, especially if the tile stops at about head height rather than going all the way to the ceiling. Be aware that this design is easy to do poorly as it can be a little too reminiscent of a locker or gym shower, but with the right tile it can also be incredibly beautiful.
For the especially bold – or for those with especially small bathrooms – wet showers eliminate all the barriers entirely. Asian style wet bathrooms – that is, bathrooms that are entirely waterproofed with a drain in the center of the floor – are starting to pop up more and more in American designs. These do away with the conventional distinction between various parts of the bathroom and allow the water to fall where it may, so to speak. This is far and away the most open look that can be achieved in a small bathroom, and certainly provides the most wiggle room, but does require extra care to ensure that any fixtures (from the floor, walls, and tub to the toilet and sink/vanity) are adequately waterproofed and with sufficient drainage to prevent damage from these full-bathroom showers.
To see more of these ideas in action, read the full article here, or check out more beautiful shower enclosures from Vigo.
HomeThangs.com is not only a home improvement superstore, it also provides expert design tips and a comprehensive shopping guide, taking the ideas from professional interior designers, and offering tips to the consumers on how to pick the products to best suit their needs.