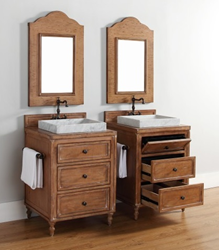 Incorporating drawers and shelves into a traditional vanity means either breaking slightly with tradition or carefully camouflaging them so they blend in to the overall symmetry of the design.
(PRWEB) September 09, 2014
HomeThangs.com – the Online Home Improvement Store has made their goal to deliver the right product to the consumer. With that in mind, shopping and home design tips, as well as special product selections are being introduced.
It can be really difficult to pull off a traditional look in a small bathroom. By design, most traditional and antique style bathroom vanities are big and grand, and all too often scaled-down versions of traditional designs lack the smart, well-organized storage needed in a small bathroom. That said, some manufacturers are starting to incorporate storage features that are typically associated with modern vanities into smaller versions of their more traditional designs. HomeThangs.com has introduced a simple guide to a few of the most important ones to look for.
One of the biggest problems with incorporating drawers into a small, traditional bathroom vanity is that doing so almost invariably makes the vanity asymmetrical. In a more modern design, an asymmetrical style can actually be a design feature, but traditional design is typically very symmetrical, which is almost impossible to obtain when drawers are added to a vanity that's 36″ or narrower. The drawers are either too small, inaccessible, or are included to the exclusion of a main storage cabinet, none of which are particularly ideal.
Instead, forget symmetry and look for vanities that are divided straight down the middle, with a cabinet on one side and stacked drawers on the other. The look might initially seem a little unusual, and it certainly shirks tradition, but it makes it possible to fit a bank of full sized drawers in a vanity that's as little as 30″-36″ wide without sacrificing an over-all traditional style.
Reducing the size of the cabinet rather than forsaking drawers not only makes it vastly easier to store small personal items, it also makes the cabinet itself more accessible. Even on a relatively small vanity, a single, large, open cabinet can easily get jumbled and crowded since there's so much space and little or nothing to keep it divided. With a cabinet that's half the size, it's harder for items to get misplaced or pushed out of sight.
Plus, many of these smaller half-cabinets are also equipped with one or more shelves. Cabinets with shelves make better use of the height of the vanity, including the empty space around the plumbing and directly under the sink, which usually goes to waste. Since most vanities are pictured with the cabinet doors closed, this is an important feature to double check for. Shelves are simple and incredibly useful, but surprisingly uncommon, so look inside or double check the description.
Unfortunately, this 50/50 division simply won't work on vanities smaller than 30″ wide; both the drawers and the cabinets would be too narrow to be practical. That said, it isn't impossible to find a traditional vanity in this range that has a drawer in it. Most commonly, they're located at the base of the vanity, but for more accessible drawer storage, look for hideaway drawers. These aren't drawers in the strictest sense because instead of pulling out, the drawer front tips forward (and sometimes extends slightly), providing access to a small shelf that rests below the level of the sink.
Most traditional vanities install a faux panel in this area directly under the sink rather than incorporating a true drawer. The reason for this is simple: any drawer installed there has to accommodate both the bottom of the sink and the plumbing. Modern vanities often make use of this space with large, U-shaped drawers designed to accommodate the plumbing, but hideaway drawers offer a nice middle-of-the-road option. Because the "drawer" panel blends in, they help maintain a traditional style while adding that little extra bit of storage space.
For more thoughts on choosing a traditional bathroom vanity for a small bathroom, check out the full article here.
HomeThangs.com is not only a home improvement superstore, it also provides expert design tips and a comprehensive shopping guide, taking the ideas from professional interior designers, and offering tips to the consumers on how to pick the products to best suit their needs.