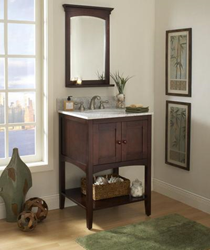 Vigo has a really solid selection in the 24" and under range, with a handful of vanities as narrow as 16 inches.
(PRWEB) November 23, 2013
HomeThangs.com – the Online Home Improvement Store has made their goal to deliver the right product to the consumer. With that in mind, shopping and home design tips, as well as special product selections are being introduced.
There are many ways to get the most out of a small bathroom vanity, but knowing what features to look for is only half the battle; it also helps to know where to look. For those looking to tackle a small bathroom remodel, HomeThangs.com has introduced a guide to five great bathroom vanity brands that specialize in products for smaller spaces.
Sagehill Designs
Sagehill is one of the go-to bathroom vanity brands for small bathrooms because nearly all of their vanity collections are available in 24″ models. While there are, of course, manufacturers who offer vanities even smaller than this, Sagehill Designs is notable for their selection of more traditional style vanities in the 24″-30″ range. All of their collections also include a matching mirror and storage cabinet – features that are often lacking from smaller vanity sets, but that can make a big difference in the usability of all but the tiniest bathrooms.
Empire Industries
When it comes to customizing the storage in a very small bathroom vanity, Empire Industries is one bathroom vanity brand that's simply without peer. Empire has a whole host of vanities in the 20″-24″ range and even more options ranging up to 30″. Many of them are available in different configurations, with different numbers of or differently placed cabinets and drawers. While their more modern vanities are a little more flexible (many can even be converted into wall mount vanities), they also have a really nice selection of smaller traditional vanities, many of which include additional storage cabinets.
RonBow
For a nice transitional style for a small bathroom, look no further than RonBow. While many of their vanities clock in above the 30″ mark, there are an equal number that run as lean as 15″, with a streamlined traditional look that's both casual and classy. RonBow's smaller vanities offer a nice combination of elegant woodwork, frosted glass, and strategically placed drawers and shelves that make them really work in a smaller space. Plus, many of their smaller vanities can be paired with real stone vanity tops, adding a little more traditional twist that's rare to find in this small size bracket.
Vigo
On the more modern end of the spectrum are the vanities from Vigo Industries. Vigo has a really solid selection in the 24″ and under range, with a handful of vanities as narrow as 16 inches. The majority (though not all) of their vanities are wall mounted, and many come with matching mirrors and low profile porcelain sinks integrated into the vanity tops, all of which helps maximize the quantity and accessibility of the storage space.
Iotti
Iotti's petite bathroom vanities have a sleek, modern, European aesthetic – very efficient and minimalistic. Like Vigo, many of their vanities are wall mounted with a nice combination of drawer and cabinet storage. But their vanities are available in a greater variety of finishes, including glossy black, white, and gray, as well as several different wood tones. Iotti also has an impressive selection of wall mounted storage cabinets, which are the perfect way to add storage in a small bathroom without sacrificing floor space.
For a closer look at these great brands, check out the full article here.
HomeThangs.com is not only a home improvement superstore, it also provides expert design tips and a comprehensive shopping guide, taking the ideas from professional interior designers, and offering tips to the consumers on how to pick the products to best suit their needs.