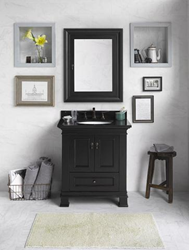 One of the best ways to save space in a small bathroom is simply to think about functionality first, and then let style follow naturally through innovation.
(PRWEB) August 08, 2013
HomeThangs.com – the Online Home Improvement Store – has made it their goal to deliver the right product to the consumer. With that in mind, shopping and home design tips, as well as special product selections are being introduced.
Small bathrooms are always difficult to decorate, with never quite enough space and often odd shapes or niches that can be hard to accommodate. But difficult doesn't mean impossible, and with solid planning, it's entirely possible to get a comfortable, luxury feel even in the smallest bathroom. HomeThangs.com has introduced a guide to six smart ways to save space in a small bathroom and make the most of every available inch.
1. Downsize The Tub
Except for people who are really tall, choosing a good soaking tub is less about the length of the tub and more about the depth. Because most people don't stretch out to their full length in the tub, a standard 60″ tub can more than suffice, even in a small master suite. In fact, it's worth considering sizing down rather than up. Some gorgeous clawfoot tubs come in the 55″-58″ range, but have sleek, sloped backs and deep walls that make for comfortable soaking even with the reduced length while freeing up floor space.
2. Ditch The Tub
One of the most dramatic ways to save space in a small bathroom goes somewhat against convention: getting rid of the bathtub entirely. While it's still taboo not to have any bathtubs in the home, the trend towards huge luxury tubs is waning in favor of luxury showers. In a small bathroom, this is doubly good, because a very nice shower enclosure can be built in much less space than even a standard bathtub or shower/tub combo. Glass shower doors – especially frameless ones – can make a small bathroom look much more open, while wet bathrooms create a completely open, barrier free design that makes full use of a small space.
3. Install A Niche
Recessing shelves and niches into the empty space inside a bathroom's walls adds usable space without requiring any major construction (like bumping out a wall or adding an addition). On the wall behind the toilet, this can provide a full wall of shelved storage without interfering with head space the way some over-tank storage can, and in a shower it can provide seamless storage for shampoo, soap, and so on, no shower caddy or other clunky solutions needed.
4. Wall Mounted Toilets
Wall mounted toilets are another great way to save a little bit of floor space in a small bathroom. Rather than being fixed to the floor like a standard toilet, these are hung from the wall with the actual tank recessed into the wall and covered with drywall or tile. This significantly reduces the footprint of the toilet and has a sleek, seamless modern style. That said, this relatively recent innovation should only be undertaken as part of a larger renovation, since it requires the removal of a wall and a little rearranging of plumbing during installation.
5. Bathroom Vanity Selection
There are no hard and fast rules to choosing a bathroom vanity for a small bathroom, and the "best" one will depend on a lot of factors specific to the space and the people that use it. One of the best ways to save space in a small bathroom is simply to think about functionality first, and then let style follow naturally through innovation. Small bathroom vanities (especially ones equipped with drawers and hidden shelves) offer the greatest amount of hidden storage. Wall mounted styles offer a little less storage but are often more accessible and take up less physical space, while pedestal sinks are visually the smallest and can make a small bathroom seem more open, but also offer no storage at all.
6. Custom Storage
Done right, a small or odd-shaped bathroom can be both functional and beautiful, but it's important to see odd or cramped spaces as an opportunity rather than a drawback. Custom built cabinetry is a little more expensive, but done right, it can offer innovative solutions that turn problem spaces into highly useful ones. Building a storage cabinet into an awkward corner, making a display shelf out of a wall bisected by a gabled roof, or just making the most of recessed spaces, can all make a small bathroom beautiful and even enjoyable to use.
To see some of these ideas in action, read the full article here.
HomeThangs.com is not only a home improvement superstore, it also provides expert design tips and a comprehensive shopping guide, taking the ideas from professional interior designers, and offering tips to the consumers on how to pick the products to best suit their needs.