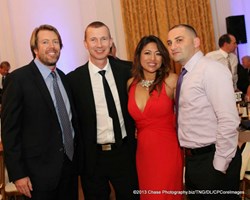 Sense Financial Services, one of the top providers of high quality small business 401k retirement plan announced raising $850 for the Make a Wish Foundation and St. Jude Children Hospital.
Yorba Linda, CA (PRWEB) November 01, 2013
The Norris Group is launching yet another highly acclaimed fundraising event where all proceeds of the activity will go to the Make a Wish and St. Jude Foundation. Industry leaders will be attending this much awaited fundraiser including top administrator and provider of small business 401k retirement plan, Sense Financial Services. The top quality retirement plan is available for all retirees and investors who want to make good use of their retirement funds to investments in industries such as real estate, foreign currencies, bonds, stocks and many others.
The fundraising evening was held on the 18th of October 2013 at Nixon Library located in Yorba Linda, California. It was an evening of unmatched conversations about current state of the real estate market, mortgage market, small business retirement plans and Solo 401k with fine dining and superb venues for networking. Other than the excellent venue and activities for the fundraiser evening, investors and donors of the event, some of them are participants of Solo 401k for self-employed will also have the chance of a lifetime to see top figures in the industry all in one stage as panelists.
Sense Financial Services, one of the donors of the fundraiser and provider of small business 401k retirement plan, along with other top figures in the financial and investment niche will also be dishing out salient inside scoop in successfully navigating, recasting and adjusting the market. The Make a Wish and St. Jude Foundations will help kids dealing with threatening medical conditions through raising funds in one evening where donors could also dress up and dine in the luxurious and sophisticated presidential East Room.
One of the top donors is Hawaiian Time Invest which donated $500 for the event that offers sponsorships to raise funds to recipient kids. Other well-known and top people to grace the event as panelists include Bruce Norris, president of The Norris Group, Christopher Thornberg, Principal of Beacon Economics, Chair of Mortgage Bankers Association Debra Still, President Sean O'Toole of Foreclosure Radar, John Burns, CEO of John Burns Real Estate Consulting and Leslie Appleton-Young, Chief Economist of CA Association of Realtors.
About Sense Financial Services:
Sense Financial Services LLC is California's leading provider of retirement accounts with "Checkbook Control": the Solo 401k and the Checkbook IRA. Over the years, Sense Financial have assisted hundreds of clients obtain checkbook control over their retirement accounts while providing them with the ability to invest in virtually any investment class, including real estate, private lending, mortgage notes and much more without the need for custodian approval.