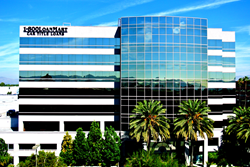 Encino, California (PRWEB) November 04, 2014
In an effort to help millions of businesses that consistently do not qualify for traditional loans, LoanMart is introducing an innovative Small Business Loan to service this market.
Whereas traditional and alternative lenders have requirements that typically decline business loans for start-ups, credit-challenged firms, and businesses with limited history, the LoanMart Small Business Loan is tailored to assist these types of businesses with funding.
"The market has witnessed an influx of alternative business lenders to provide liquidity where traditional lenders have trailed off," said Hugo Dooner, the chief executive of LoanMart, California's No. 1 auto equity lender. "However, these alternative providers have requirements that exclude a large part of the small business demand. LoanMart is proud to introduce a product specifically designed to address the under-served small business market."
The new product also addresses the problem entrepreneurs face when trying to get loans for businesses with poor credit or without established financial history. A credit check is not the sole determining, nor even the biggest, factor in getting approved. Now, even a sole proprietor, such as an independent contractor, with limited credit history can have the financial flexibility to buy inventory, increase advertising, acquire new equipment or manage cash flow timing issues.
Business owners looking to raise startup capital or to fund any other business need can now borrow up to $50,000 through LoanMart Small Business Loans with just a few simple documents. Depending on the circumstances, business owners can be funded within about a day, and they can take up to four years to repay the loan.
According to Dooner, with the addition of the Small Business Loan, LoanMart now serves customers in 19 states. Beyond the expansion of location, this product now makes LoanMart a multi-product financial company. LoanMart Small Business Loans is just one more step toward the company's move from being solely an auto title loan company to providing a broad spectrum of financial products for both consumers and businesses.
Small business owners in 13 states can begin applying now for a LoanMart Small Business Loan by visiting smallbusiness.loanmart.com/ or calling 1-800-733-LOAN (5626).
#businessloan, #smallbusinessloan, #startuploan, #badcreditloan, #startup, #entrepreneur
About LoanMart:
Since 2001, LoanMart has been a leader specializing in non-traditional loans for customers who may otherwise be unable to borrow money from traditional sources such as banks. Its lending products include auto title loans and are available regardless of an applicant's credit score. Based in Encino, Calif., LoanMart has 375 employees, and currently does business in California, Arizona, New Mexico, Utah, Illinois, Missouri, Alabama, Iowa, Idaho, Indiana, Kansas, Maine, Mississippi, North Carolina, Ohio, Pennsylvania, South Carolina, Virginia and Washington.
For more information, visit the company's website at http://www.LoanMart.com. You can also find us on Twitter @Loanmart, and Facebook.
Editor and supplementary notes:
The information contained in LoanMart's press releases is intended solely for journalists and should not be used by consumers or business owners to make financial decisions. Any consumer or business owner interested in finding out more about any of LoanMart's services should visit LoanMart.com or smallbusiness.loanmart.com/ for full terms and conditions.
Reporters may contact:
Marketing Department
Marketing(at)800LoanMart(dot)com
818-285-1625