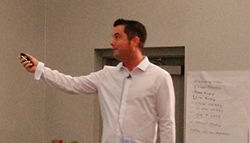 In the past several months, we've started working with more smaller companies that do not have a large budget, but want to compete with national corporations
Miami, FL (PRWEB) July 30, 2015
The advancements in web technologies in 2015 have created new routes for businesses nationwide to connect with consumers. New service packages at the BrianHanson.com company are making it possible to supply small business marketing to clients that have low to medium budgets for promotion this year at http://brianhanson.com/marketing-services.
The expanded services that are now made available are designed to help companies grow a start-up business or increase the current customer base that already exists. Through a revised marketing plan that follows the new SEO rules in place at Google, the Brian Hanson marketing procedures are now achieving more results for clients in different areas on the Internet.
"In the past several months, we've started working with more smaller companies that do not have a large budget, but want to compete with national corporations," said Trevor Augustus, Project Manager at BrianHanson.com.
The affordable marketing programs now supplied to smaller companies includes brand development, paid advertising, web design, content marketing and social media management. These newer programs are the most requested by entrepreneurs and individual business owners. The revised programs are in place to offer a professional level search engine marketing solution at a micro company price tag.
"We are have excelled since our inception at conversion rate optimization, and plan to continue growing CRO for our client base," Augustus added.
The digital marketing services that are now revised this year are expected to make it more affordable for companies in the almost any industry to compete when selling products or services online. To help expedite requests for information, a new contact page has been established at http://brianhanson.com/contact to provide someone requesting information with an immediate response.
About BrianHanson.com
The BrianHanson.com company provides marketing services and promotional solutions for small and large companies in the USA and Canada. The company, and its subsidiary Bring it On Marketing, now help clients achieve expanded income. The BrianHanson.com company now has a full-time blog posting schedule that introduces new promotional concepts to business owners.