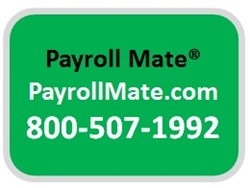 For $99 only, SOHO and SME businesses will be able to process 2014 payroll for up to 10 separate entities, with up to 75 employees per entity for one calendar year.
Chicago, IL (PRWEB) December 08, 2013
Real Business Solutions, announces the launch of its latest small business payroll software - designed and priced to meet the payroll processing and tax compliance needs of US small offices, home offices and small to medium enterprises. Free trial download of the 2014 system is available at http://payroll.realtaxtools.com/
Nancy W., product manager, Real Business Solutions said: "Our 2014 Payroll Mate payroll system offers real value to SME and SOHO businesses. The software has been designed with small businesses in mind so affordability and ease-of-use were key factors taken into consideration. Smaller enterprises can now benefit from the type of payroll processing capabilities which larger organizations use on a daily basis."
For $99 only, SOHO and SME businesses will be able to process 2014 payroll for up to 10 separate entities, with up to 75 employees per entity for one calendar year. An entity is a business with an assigned employer identification number (EIN) from the Internal Revenue Service. Other payroll software providers charge more than $300 to process payroll for 3 employees.
Small businesses and tax professionals are invited to try Payroll Mate by visiting http://www.PayrollMate.com/ .
Payroll Mate is comprehensive payroll system for processing employee and contractor payroll. Because payroll management can be complicated, with a wide array of legislation and regulations to consider every day, Payroll Mate is designed to be easy to use and operate. Payroll Mate provides a wealth of features including the ability to automatically calculate net pay, federal withholding, social security, Medicare, state and local payroll taxes. Payroll Mate also supports different types of payroll pay periods, prints checks, prepares payroll forms 941, 940, 943, 944, W-2, W-3, California DE-6 , California DE-7 , Texas C-3 , Texas C-4, New York NYS-45, Illinois 941 and Illinois UI-3/40. The payroll software allows unlimited tax categories, pre and post-tax deductions and unlimited pay rates per employee making it very flexible and powerful.
Payroll Mate is perfect for most types of small businesses including nonprofit organizations, startups, home-based businesses, young entrepreneurs, online businesses, self-employed & independent contractors, franchise businesses, women / veteran-owned businesses, farms, restaurants, churches, and many more.
Payroll Mate software highlights include support for full-time employees, part-time employees and independent contractors; automatic calculation of federal and state payroll tax withholding; support for different types of pay periods including weekly, biweekly, semimonthly and monthly; support of customizable payroll income, tax and deductions categories; ability to export payroll data to Peachtree (Sage 50), QuickBooks, Quicken, Microsoft Accounting and more; support for payroll vacation and sick pay accrual; support for federal payroll forms and a number of state forms; prints IRS 1099 and 1096 forms; supports income per mile and per piece; exports payroll reports to Excel, CSV and PDF ; prints on Laser and Inkjet checks; generates comprehensive reports including payroll journal, tax liability and deposit requirement; generates direct deposit files and prints MICR checks on blank check stock.
Give Payroll Mate software a test drive and see how easy and affordable processing payroll can be.
Visit http://www.realtaxtools.com/payrollsoftware/payroll_software.html