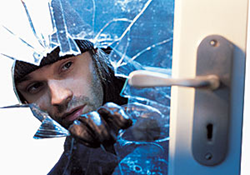 Following these simple tips will help small business owners protect themselves and their business from a burglary.
New York, New York (PRWEB) September 04, 2013
Burglaries that take place on non-residential properties account for over 30% of all crimes on property that are committed each year, and for small businesses, this figure is particularly staggering because of the big impact burglary and theft can have on the bottom line for a small business. In addition, it is reported that once a burglary occurs at a business location, it is at a higher risk to become a victim again in the future.
The security professionals at SecuritySystemReviews.com, a site providing reviews of the best security system companies, created a list of tips for small business owners to avoid the costly effects of being burglarized.
1. Installing a top security system is one of the best ways to not only catch burglars, but also prevent burglaries from occurring at a business. Security system costs are almost always outweighed by the financial benefits they create, as well as the peace of mind experienced by the business owner.
2. Aside from security systems, business owners can also contact a security professional in order to create a customized security plan. A professional will be able to identify points of weakness in both the interior and exterior of a business, and create a plan of action that will address these vulnerabilities.
3. Create a security plan that can be shared with key personnel and employees. The plan may include how to arm and disarm the security system, protocol for locking the building, cash handling, and what to do in case of an emergency. Employees should receive a written statement outlining safety and security procedures, and they should always be asked to sign this document to ensure they are aware of these procedures.
4. Light all points of entry and lighting fixtures should not only be present, but should also be as tamper-resistant as possible, to avoid having a thief remove them or disable them during a burglary.
5. All exterior doors should be equipped with a deadbolt lock or latch, and doors that are used for receiving or located overhead should be equipped with a heavy-duty padlock.
6. Hedges that surround a business should be thorny and wide, but not tall. Tall bushes and shrubberies can actually provide a shroud for thieves to enter a property.
7. Create an environment that makes employees comfortable to report suspicious activities. For a small business owner, it's typically more beneficial to have employees that are overly cautious, versus afraid or unwilling to report potentially dangerous or detrimental activity.
About SecuritySystemReviews.com
SecuritySystemReviews.com is the leading third-party provider of information regarding security systems. The site provides the best security system reviews, along with information, news and industry updates. Security System Reviews also provides consumers with valuable coupons and discount codes for the purchase of home security systems.