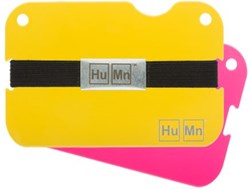 It's definitely one of my favorite cool travel product finds.
Portland, Oregon (PRWEB) October 17, 2013
HuMn Design, LLC is home to HuMn wallets. Recently news sources have reviewed and featured these small wallets on their websites, in their magazines, and on their tv shows.
One of the newest features comes from the Fox Business Network. Fox interviewed founder Ken Minn about the company, their products, and their business model.
In the interview Minn revealed that inspiration for the HuMn wallet came during his business travels. "I would get to the hotel room, empty out my wallet, take some cash, a couple of cards and tie it with a rubber band," explained Minn.
Fox reported that Minn wanted something more appealing than a rubber band as a wallet, so he started a journey to create a more high tech wallet that could still be small in size like he preferred.
Minn shared that production has been their biggest challenge along the way. He told Fox that, though they started manufacturing in the United States, HuMn has transferred some of their manufacturing overseas in order to get a higher quality product.
Other features and reviews from media sources can be seen on the HuMn website by clicking here.
Some of the sources seen on the page are Tactical-Life.com, Massachusetts Traveler Magazine, ABC 6 News, and the Wellness Travel Journal to name a few.
Tactical-Life.com had this to say about HuMn; "The modern, slim, RFID secure wallets make it easy to carry everything you need, anywhere you need to go... Much like natural selection, the HuMn Wallet was born out of necessity."
The Massachusetts Traveler Magazine's review spoke to the security of the wallets. "One of the advantages (of the HuMn wallet) is that its aluminum plates block radio waves, making it impossible for the cards to be scanned while they are in the wallet. That makes the wallet not only a statement of purpose and function, but also adds to your security in a world where RFID cards can be scanned without your knowledge."
ABC 6 News' Good Day Columbus hosts featured the HuMn wallet as a great anniversary gift for men. They said, "not only is it nice and slim, but it also protects against skimmers."
The Wellness Travel Journal reviewed the HuMn wallet saying, "it's definitely one of my favorite cool travel product finds."
HuMn's inventory of small wallets can be seen here where customers have a choice between the HuMn Wallet 2 (HW2), or the HuMn Mini.
Though slim in appearance, the wallets can still hold between 6 and 12 cards depending on which size customers decide on.
The website goes into much more detail about the product dimensions, the vast color options available, and the specifics on protection provided by the HuMn wallet. Visit the site for more information or to purchase a wallet.