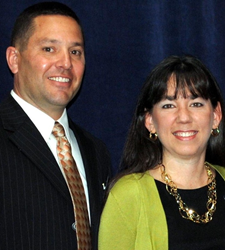 Many customers no longer wait for after Thanksgiving to begin holiday shopping. With the popularity of online companies such as GoatMilkStuff.com, consumers tend to begin shopping earlier.
Scottsburg, Indiana (PRWEB) December 01, 2014
Holiday sales are running at a brisk rate at http://www.GoatMilkStuff.com, announced PJ Jonas, founder of the nationally-acclaimed maker and marketer of natural goat milk soaps and lotions who said Christmas-related sales began earlier this year as many shoppers sought bargains before Thanksgiving.
PJ said, "We are happy our goat milk soap and lotion products help so many people by moisturizing their skin and feel that the Gift Packs we have developed are becoming thoughtful Christmas presents for so many people."
The mom of eight teamed with husband Jim six years ago to market natural soaps made with milk of goats on their Indiana dairy. Since then, sales of the family business grew dramatically each year. Each of the Jonas children, ages 7 to 17, help in age-appropriate ways from milking goats to assisting in the office. The children are also home-schooled by PJ, a former engineer, and Jim who was previously a business executive and a science teacher.
Jim Jonas, said, "Many customers no longer wait for after Thanksgiving to begin holiday shopping. For decades, the Friday after Thanksgiving was when many big retailers went into the black, or became profitable, as the Christmas selling season begain. With the internet and popularity of online companies such as GoatMilkStuff.com, consumers tend to begin shopping earlier."
Goat Milk Stuff has been featured national in major media, including the Today Show, The Doctors, Oprah Magazine, The Huckabee Show and many more, including TV news stations throughout the Midwest.
PJ and Jim have been widely recognized for their small business success as both received Indiana's highest entrepreneurship awards. PJ this month received the 2014 Annual Southern Indiana Small Business Entrepreneur Award and last year was voted Leading Mom in Business in the 2013 national competition of StartupNation.com. This year, Mike Huckabee, host of the Huckabee Show, interviewed PJ and Jim about building their small business to prominence.
PJ said in addition to the traditional goat milk soaps and lotions purchased, this year they are seeing larger individual orders, many including Goat Milk Stuff Gift Packs, which include the popular:

Sensitive Skin Pack of unscented purity goat milk soap, unscented lotion stick, unscented lip balm and small laundry soap, for $20.
Bath Fizzies Variety Pack of individual packs for pampering baths in 6 scents of Black Raspberry, Cold Relief, Lavender, Luv Spell, Pink Sugary and popular Oatmeal, Milk and Honey, at $24.
Problem Skin Pack for anyone with dry skin, eczema, psoriasis, rosacea, acne, flaking or other skin problems, including four half-bar soaps in organic Castile, Purity, Calendula and Tea Tree, for $15.
Foot Care Pack of peppermint-scented lotion stick, bath fizzy & foot scrubby luffa, for $18.
Beauty Pack of 5-ounce scented goat milk soap, small lotion stick and lip balm at $18.
Orders at GoatMilkStuff.com will be shipped by two-day Priority Mail.
Recently, NBC in Louisville, WAVE3-TV, visited the Jonas farm to report about the family working together. TV's The Doctors also reported about Goat Milk Stuff's healthy products that help skin.
The Jonas family and Goat Milk Stuff maintain an active social media presence with a growing following at Facebook.com/GoatMilkStuff, at YouTube.com/GoatMilkStuff and at Twitter.com/GoatMilkStuff.
Online at GoatMilkStuff.com, the Scottsburg, Indiana company makes and markets all-natural Goat Milk Stuff™ products including goat milk soaps, lip balms, lotions, bath bombs, laundry soap, gift sets and more. For media or entertainment, contact Brian Dobson at DobsonPR.com or BD (at) DobsonPR(dot)com.