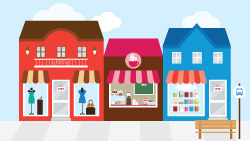 By clarifying who their buyers are and the paths they take online to buy from them we are able to show our clients where their opportunities lie.
Lake Success, NY (PRWEB) June 30, 2014
AIMG has designed and developed numerous ecommerce websites for a wide variety of small business clients, including retail 'bricks and mortar' shops and service providers like New York specialty bakery Evelyns-Kitchen.com, as well as retailers selling exclusively online like maternity clothing designers Me2Roo.com and earth-friendly home furnishing and apparel retailer in2green.com. The key to the company's successful approach to ecommerce development is the alignment of buyer wants and behaviors with the elements of website design, content, and functionality that create an optimal buyer experience.
"Many small business owners looking for an ecommerce website don't know where to start," said Joe DeMicco, President & Founder of AIMG. "Whether they want an online version of their offline 'bricks and mortar' store, or they will be selling their products and services exclusively online, the focus is rarely, if ever, on what the website needs to do in order for the business goals to be met. Typically the focus is on design elements that have nothing to do with the way their buyers think and act online. We understand this trap so we work closely with our clients to make sure they understand their choices. By clarifying who their buyers are and the paths they take online to buy from them we are able to show our clients where their opportunities lie."
From implementing a custom branded design with a third-party shopping cart solution like Shopify or Big Commerce to developing a robust, fully custom application like the site they built for BendheimCabinetGlass.com, AIMG has developed an approach to transactional website design that gets real business results for all ecommerce projects. "Each element of the design must focus on the buyer," said DeMicco. "From website content such as texts, images, links, and video, to functionality and calls-to-action, the goal is to guide buyers through the purchase process by aligning with their wants and behaviors at each step along the path."
To learn more about AIMG's ecommerce solutions for small business, visit http://www.aimg.com/Web-Design-Development/e-Commerce-Solutions/ or call 1-888-291-0037.
About AIMG
Established in 1994 as Accurate Imaging, Inc., AIMG is an Inbound Marketing, Web Development, Search Engine Optimization (SEO) and Small Business Development firm with offices in New York, New Jersey, and North Carolina. Visit http://www.aimg.com or call toll free 1-888-291-0037. Watch AIMG's Small Business Solutions video to learn more about how AIMG brings business to Business.
About Joe DeMicco
Joe DeMicco (http://www.linkedin.com/in/joedemicco) is the founder and CEO of AIMG. He has been a web and marketing consultant for 20 years. He started his flagship company Accurate Imaging in 1994, which he re-branded as AIMG in 2009. An alumnus of the Goldman Sachs 10,000 Small Businesses program, Joe continues to present online marketing webinars to past and current participants of the program. Joe is a recognized small business specialist and offers business development tips on his blog http://www.DeMicco.com.
Client Testimonial
"Joe DeMicco and his team at AIMG are the best you will find in the field. Highly knowledgeable and extremely creative, they were not only able to understand my needs, my brand, and my goals, but create options I hadn't even considered to maximize my web marketing strategy. As a small business owner, I felt I had a whole IT department all of a sudden and customer service is amazing. You are assigned your own client relations representative that readily answered questions and helped navigate the process. I would highly recommend AIMG for any online needs you may have. They go above and beyond and the experience has been fantastic."
Ayala Donchkin, Exec. Chef & Owner - Evelyns-Kitchen.com