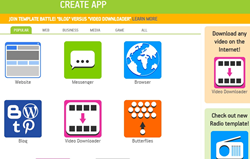 I have already created 5 templates that each target a different part of my business and audience
(PRWEB) March 24, 2016
AppsGeyser is a wonderful online app making tool for new business and small business owners. The easy to use technology allows users to create Android apps from scratch without the need to understand technology and code. The number of apps created using the specially designed templates has rocketed in the past few months, bringing up the total of apps created with AppsGeyser to over 2.7 million apps.
In the past few weeks alone, over 1000 small business owners have used the business templates to turn their business mobile. Small businesses are struggling to compete with larger organizations and with limited budgets they are struggling to mobilize their businesses. That was until AppsGeyser came on the scene with their easy to create and simple to use templates.
With consumers becoming savvier and turning more towards mobile, it is vital that small businesses find innovative ways to fulfil the consumer need for instant information. The large range of templates allows small businesses to create relevant apps for every step of the buyer's journey. In addition to the existing 50 templates already on offer, AppsGeyser is currently in the process of increasing the range of app templates.
"I was worried that I wouldn't be able to market my new business effectively," new business owner Jadon Jones told us. "I was so excited to hear about AppsGeyser. Within the past week I have already created 5 templates that each target a different part of my business and audience."
"The World is mobile and there is no escaping that," explains Vasily Salomatov, AppsGeyser CEO. "It is vital that every business owner has the opportunity to connect with their audience."
About AppsGeyser
AppsGeyser, launched in February 2011, is now the biggest Free Android App Builder on the market. AppsGeyser's popularity has risen by enabling users to create apps with ease for Android devices from any web content in under five minutes. AppsGeyser has seen more than 2,768,000 apps created on its platform. There have been more than 1.3 billion installations of its apps.