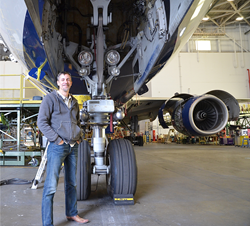 Telling stories is what we love to do.
Boston, MA (PRWEB) March 20, 2014
After consistent year-over-year growth with video and film creation at the Boston based ad agency, Small Army officially launched Small Army Studios, led by agency Creative Director, Steve Kolander.
"Recent studies suggest that the number of online video consumers will double to 1.5 billion by 2015," says Steve Kolander. "That's mind blowing. With today's technology, brands of all sizes and budgets have the opportunity to tell their story using video. And, telling stories is what we love to do."
Over the last few years, Small Army has created videos and films for the likes of GE, Reebok, SolidWorks, Emerson Hospital, MA Eye and Ear and Mathworks to name just a few. From advertising and corporate videos to customer stories and original film series, the agency leverages its unique moral of the story process to create work that captures the hearts and minds of audiences.
Kolander will retain the title of Executive Creative Director at Small Army, while also taking on new responsibilities as President of Small Army Studios. To help with day to day creative leadership at the agency, Small Army Design Director, Sam Pitino, was promoted to Vice President, Associate Creative Director.
"Steve is an amazing storyteller and is passionate about telling stories through video," comments Jeff Freedman, CEO of Small Army. "I'm excited for him to lead the team to new heights and can't wait to see what will come next from them."
The new division will work hand in hand with the Small Army account management and creative teams to create and produce videos that integrate with the entire story for a brand.
"Videos rooted in inspiration and motivation are imperative to deliver stories that our audience can relate to in a meaningful way," says Julie Sullivan, Global Brand Marketing at Reebok International, LTD. "Small Army Studios has allowed us to speak with our audience via an engaging, authentic and visually refreshing style, that has been a key factor in the success of continually captivating the hearts and minds of our audience for well over a year now."
Recognized as one of Boston's top 25 advertising agencies by Boston Business Journal, and one of the top 10 Small Businesses in Boston by The Greater Boston Chamber of Commerce, Small Army works with a range of national and local brands to tell stories that build relationships with audiences. Their stories are told in traditional advertising channels, non-traditional media, social media and any other place that audiences are most apt to engage. At the foundation of each story is a core belief that both the brand and the audience share - the moral to the story. Small Army has been creating successful stories since 2002 for brands such as GE, SolidWorks, Seaport Hotel, Reebok, Emerson Hospital, WGBH, GymIt and DirectTire. The agency is also responsible for the national annual cancer fundraising event, Be Bold, Be Bald!, through its non-profit, Small Army for a Cause. For more information, visit http://www.smallarmy.net.