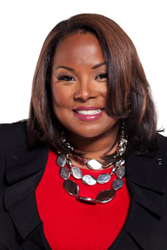 It's not easy starting a company... I want to show other entrepreneurs and business owners that it is possible no matter what obstacles you face.
Philadelphia (PRWEB) February 26, 2014
America's leading small business expert, Melinda Emerson, affectionately known as "SmallBizLady," marks her 15th year in business this March, to much critical acclaim. True to her mission to end small business failure, Melinda has partnered with top providers of small business products and services, including Google, Sam's Club and The UPS Store to celebrate and power the heart of America's economy. Additionally, the Succeedasyourownboss.com homepage will unveil a documentary revealing the motivation and rise behind its founder.
Several friends and supporters of Melinda Emerson are already sharing their congratulations through video on social media. Jean Chatzky, financial editor, NBC's Today show, says Melinda's work to end small business failure is inspirational, "I just love to watch what she'll do next." Mike Michalowicz, author of The Toilet Paper Entrepreneur, highlights her work with women business owners and says, "She is changing the world for entrepreneurs of all type." In another video, media personality and author of You Need to Be A Little Crazy: The Truth about Starting and Growing Your Business, Barry Moltz, sings a heart-felt congratulations. "You do an incredible job for small business owners all over the country," says Moltz.
Adding to the social media frenzy, Melinda will host "15 Days of Giveaways" from her Twitter profile @SmallBizLady, which reaches over a quarter-million followers daily and thousands more through her weekly #SmallBizChat. The giveaways will take place each business day beginning March 5th through March 25th, offering prizes to small business owners valued at more than $250. Participating brands include Google, Sam's Club, The UPS Store, Infusionsoft, Nextiva, Plantronics, Duda, GoDaddy and Staples. Entrepreneurs and business owners may find official rules and enter to win at http://www.succeedasyourownboss.com/15daysofgiveaways.
The website will also feature a soon-to-be released documentary, entitled "Making Melinda," showcasing a historical to present-day look at Melinda Emerson. The short film explores Melinda's childhood, first jobs and her transition from employee to business owner, mother and SmallBizLady. Viewers get to travel with Melinda as she relives her journeys in Pittsburgh, New York City and Philadelphia. "It's not easy starting a company, but in my documentary, I want to show other entrepreneurs and business owners that it is possible no matter what obstacles you face," says Melinda Emerson. "Making Melinda" will premiere March 3rd on Succeedasyourownboss.com.
About Melinda Emerson
Melinda F. Emerson, author of Become Your Own Boss in 12 Months and How to Become a Social Media Ninja, is one of America's leading experts on small business development. As chief executive officer of The Quintessence Group, Melinda leads a consulting company that helps Fortune 500 companies develop effective strategies to engage small business customers. She reaches three million followers weekly online through her social network, Succeed as Your Own Boss blog, which is syndicated by Huffington Post, and her weekly #SmallBizChat Twitter talk show. In 2012, Melinda founded the Melinda F. Emerson Foundation for Small Business Success to continue her mission to end small business failure.
Follow us on Twitter: http://www.twitter.com/smallbizlady
Follow us on Facebook: http://www.facebook.com/smallbizlady