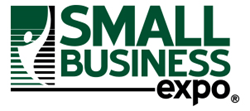 Seattle, WA (PRWEB) July 08, 2015
SMALL BUSINESS EXPO®, the nation's largest small business networking and learning event is coming to the Washington State Convention Center in Seattle, July 16, 2015, for the 1st Annual SEATTLE SMALL BUSINESS EXPO. For more information, and free registration, visit the Seattle Event page.
The day-long conference and trade show, which travels through the country's top cities for small business, brings together industry thought leaders and experts in a hands-on environment that features more than 20+ free workshops and programs along with 75+ interactive booths, demos and brand exhibits. Headlining the event is Bill Walsh, Founder and CEO of Powerteam International with a main stage presentation on The 5 Keys to Build a Million Dollar Business.
Start-ups and business owners can take advantage of free admission and educational workshops covering online/ social media marketing, employee benefit plans, credit and financing, strategies for increasing revenue and team productivity, mentoring, cloud technologies, retirement plans, and many more.
A panel discussion at noon entitled Idea to Execution: Make or Break Your Business will address questions about starting and executing a successful business. Speed networking sessions, a business card showcase, industry-centered meet-ups and a networking after-party are included in the event activities.
The Small Business Expo expects to have more than 3,000+ registered Seattle and Puget Sound area attendees at the show shopping for business resources, developing business leads and new customers, gaining new insights and networking with peers.
"We've seen the small business community really grow and change since we first launched the Small Business Expo," says event founder Zachary Lezberg. The city of Seattle currently ranks #9 on the Forbes list of Best Places for Business and Careers. The Port of Seattle is a major gateway for trade with Asia and is the eighth largest port in the United States in terms of container capacity. "With that dynamic, it's really important for us to bring new technologies, ideas and education to an epicenter like this."
This year's Presenting Sponsor Act! and Platinum Presenting Sponsor Powerteam International will be joined by Platinum Sponsor Emerge212 Office Space. Gold Sponsors include GoDaddy, Marketecture, The Seattle Times, and Vistaprint. Silver Sponsors include Bank of America, Benchmark Email, Elo Touch Solutions, kintone, Mirikel, North American Bancard, Powerteam Consulting, ReachLocal, Strongbrook, and ZipLocal.
SEATTLE SMALL BUSINESS EXPO takes place at the Washington State Convention Center; Hall 4B from 9:30 am until 4:00 pm. The Convention Center is at 800 Convention Place, Seattle, WA 98101.
For media inquiries, or complimentary press passes please contact: Heather Hawes, 630-868-5063, heather(at)modernmarketingpartners.com.
###
About the Small Business Expo
Every year, over 50,000 small business professionals and entrepreneurs across the country attend the SMALL BUSINESS EXPO to take their business to the next level. The show's owner, Film, Stage & ShowBiz Expo LLC. was founded in 2008 by Zachary Lezberg. The company's headquarters are at 555 8th AVE Suite 909 New York, NY 10018. For more information, visit http://www.thesmallbusinessexpo.com, call (212) 404-2345, or email: info(at)thesmallbusinessexpo.com. For additional information, follow and connect on our social networks:
LinkedIn: http://www.linkedin.com/company/small-business-expo
Facebook: http://www.facebook.com/SmallBusinessExpo
Twitter: http://www.twitter.com/TheBizExpo
You Tube: http://www.youtube.com/user/SmallBusinessExpo