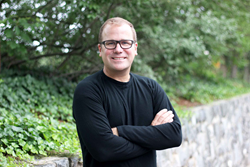 Washington, DC (PRWEB) September 07, 2017
StreetShares, the Northern Virginia-based fintech company focused on financing military veteran-owned small businesses, announced the addition of new Chief Marketing Officer, Ed Walters. Walters' experience includes serving as Vice President of Marketing and Communications at ACT, the Chief Marketing Officer of the US Army, Principal Deputy Assistant Secretary of the Army, Brand Manager at Kraft Foods, and US Army Intelligence Officer.  
StreetShares provides veteran and main street small businesses with the working capital they need to grow. The small business marketplace lender leverages its new proprietary and patent-pending technology to provide better financial services more efficiently than its competitors. StreetShares provides small business financing through small business loans, its Patriot Express(1) lines of credit, government contractor financing, and invoice receivables financing.
StreetShares also offers the American public the opportunity to invest with social impact. StreetShares offers innovative investor products, such as Veteran Business Bonds (2), to help veteran and main street small business grow. Veteran Business Bonds was the first to receive qualification from the U.S. Securities and Exchange Commission (SEC) to allow the American public to invest in small business loans.
"It is a great privilege to work for the fintech company that is shaping the future of lending and investing in small businesses," said Walters. "It is an added bonus to serve my fellow Veterans and their small businesses."
More than nine percent of U.S. businesses are military veteran-owned. Walters will grow the number of StreetShares members so veteran business owners will have access to the lending products they need while giving access to investors to support them.
"Ed is a natural fit to grow StreetShares since he is a proven, results driven Chief Marketing Officer who is also a military Veteran," said Mark L. Rockefeller, CEO and Co-founder of StreetShares.
Walters is a graduate of the U.S. Military Academy at West Point. He earned an MBA from Northwestern University and an MPA from Harvard University. Learn more about Walters and his role at StreetShares here.
About StreetShares 
StreetShares provides financial solutions for America's heroes and their communities. Business owners get fast, affordable business loans. Investors can earn 5% returns with investment products such as Veteran Business Bonds. As a leader in the affinity-based lending model, StreetShares focuses on serving the military and veteran business community and has more than 40,000 members. Membership is free. StreetShares underwrites and originates term loans and lines of credit, and provides government contract financing. StreetShares is veteran-run and located outside of Washington, D.C.
(1) This program is not associated with the SBA Patriot Express Loan Program, which was discontinued.
(2) StreetShares Notes are a non-deposit investment product. Not FDIC insured. No guarantee. May lose value. See offering statement for more details.
Contact
Shauna Vo Pulayya  
571-325-2966 
shauna(at)streetshares.com