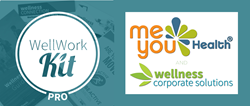 "Small businesses are an underserved market and we are delighted to provide them with access to a wellness program they can afford."
Boston, MA (PRWEB) January 17, 2017
MeYou Health (MYH) and Wellness Corporate Solutions (WCS) have partnered to offer the WellWork Kit Pro, a robust, turn-key wellness program, to small employers. Whereas 90% of large employers have a wellness program, only 22% of small employers currently offer such programs to their population, according to the National Small Business Association. The WellWork Kit Pro enables these employers to bring wellness into their small organization in a dynamic yet affordable way.
The WellWork Kit Pro combines Wellness Corporate Solutions' extensive program design experience with MeYou Health's expertise in software development, automation, and social therapeutic communities that drive engagement and outcomes. "We're excited to seamlessly integrate with one of the best-marketed firms in wellness," says MeYou Health CEO Rick Lee. "Wellness Corporate Solutions has an enviable and respected brand in wellness; we enable our partner to extend into a rich, untapped market full of small employers."
WCS CEO Fiona Gathright agrees. "Small businesses are an underserved market and we are delighted to be able to leverage our expertise and the MeYou Health digital platform to provide small businesses with access to a wellness program they can afford."
The WellWork Kit Pro includes:

a full-feature wellness portal, which includes robust online communities, a health assessment, and a dashboard for employers to gain insights into risks across their population
proven programs that help members quit smoking, get more active, and eat healthier
a comprehensive wellness culture guidebook
monthly health education flyers
on-site wellness event guides
To order the WellWorkKit Pro, go to myh.bz/wellworkkitpro.
About MeYou Health
MeYou Health (MYH) delivers a proven engaging, clinically effective, zero-maintenance wellness platform for small employers. Its health interventions use the strength of existing therapeutic social networks, which power engagement and encourage behavior change within small populations. The fully configurable technology platform is optimized for the needs of small group operations. For more information, please visit meyouhealth.com.
About Wellness Corporate Solutions
Wellness Corporate Solutions is a nationwide provider of comprehensive wellness programming and biometric screenings headquartered in Bethesda, Maryland. Since its founding in 2004, WCS has provided wellness services for more than 700 public- and private-sector clients, including Fortune 100 companies with more than 150,000 employees. For more information, please visit wellnesscorporatesolutions.com.