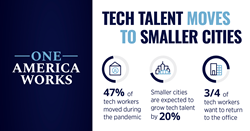 AUSTIN, Texas (PRWEB) May 07, 2021
With space and affordability increasingly the most in importance due to the pandemic, 3 in 10 tech workers anticipate living in a different place as they did before the pandemic, according to a new survey from One America Works, the non-profit that bridges the divide between Silicon Valley and emerging tech hubs across the U.S. On the rise are smaller city centers, which are primed to experience the biggest proportional growth (20%) and the most turnover, driven by a shift in population from major cities.
The April 2021 representative survey of 1,000 U.S. tech workers - ages 50 and under, currently employed for wages in the high tech sectors of data, software, consumer technology or goods, scientific research, hardware or robotics - found that nearly half (47%) of tech workers moved during the pandemic, with 53% percent of those who moved indicating that increased safety was the top reason for moving. The survey also revealed that high percentages of tech workers don't anticipate living in the same type of location after the pandemic winds down. Further, among the tech workers who lived in major city centers before 2020, 1 in 5 anticipate living outside of a major city center, post-pandemic.
In light of the shift to remote work within the tech industry over the past year, the survey found that tech workers find a real benefit to both working from an office and working at home. Nearly all tech workers (98%) report at least one major benefit from working in a home office as well as working in a central office. For example, a staggering 87% of tech workers agreed that "having a central office is important to my career success, even if I am not working there on a daily basis." Further, the survey revealed that nearly three-quarters of tech workers want to return to an office, either full time or hybrid, and 31% of tech workers said they want to go to the office at least five days a week. Only 8% of respondents indicated they never want to go to the office.
"It's clear from the survey results that tech workers are rethinking the value of living in traditional tech hubs and major city centers after the pandemic," said Patrick McKenna, founder of One America Works. "Our research found smaller city centers - which often have the space and cost of living that tech workers value more than before - are expected to grow their tech worker population by 20%, the steepest rise compared to big city centers, suburbs and rural areas. In order to attract and retain the best talent, tech companies should accommodate shifting worker preferences or risk losing top talent to competitors."
To help tech workers and employers identify new emerging tech hubs offering high quality of living, more space and lower costs than big cities, One America Works hosts regular virtual recruiting events to showcase the tech opportunities across the country. One America Works also connects local tech and community leaders with resources to build out tech employment in their region. For more, go to oneamericaworks.org, where you can also sign up for the Mid-Point, the organization's twice-monthly newsletter.
###
Methodology
The survey was commissioned by One America Works and was conducted using the online survey platform Pollfish and compiled by DKC Analytics. The sample of 1,000 U.S. adults (between the ages of 22 and 50) who are currently employed for wages in the U.S. high tech sector, defined as software, information services and data, or scientific or technical services, was surveyed on April 1-14, 2021. The margin of error is 3.1% and no post-stratification of results was applied. Pollfish's survey platform delivers online surveys globally through mobile apps and the mobile web along with the desktop web. Survey data and graphs available upon request.
About One America Works
One America Works is a non-profit organization that connects growth companies and talented people across the country, bringing the country together around common goals and values. Founded by entrepreneur and investor Patrick McKenna in 2018, One America Works addresses the geographic economic divide across America by introducing innovative technology companies to new sources of talent located in middle American cities, to bring more people in more places into the modern economy. For more about One America Works, visit oneamericaworks.org or follow the organization on LinkedIn or Twitter.