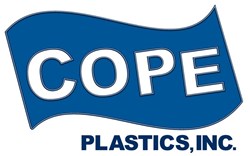 Alton, IL (PRWEB) August 13, 2013
Cindy Smalley, the Director of marketing and communications for Cope Plastics, leads the way with new roles when it comes to volunteering with United Way. After serving as the 2012 campaign chair for the Southwest Illinois Division of United Way of Greater St. Louis, Cindy will serve as the 2013 Events Committee Chair.
After bringing in a successful $1,848,234 for their annual fundraising campaigns for 2012, this year Smalley and her team will have several major events on their radar. These events include a martini tasting with Tony's North, a wine tasting with Bella Milano, the annual fund-raising campaign kickoff on August 29th and a thank you event in December.
Smalley's goals this year is to make all the events something that people want to attend and make it a successful night for United Way. From forming the events committees, to finalizing the plans, Cindy wants to make sure her team and herself work on increasing the attendance, identifying themes and activities that will enhance the turn out and to secure donations, like silent auction items for every event.
In addition, Smalley also serves as the Employee Campaign coordinator for Cope Plastic's annual fundraising campaign for United Way and is involved in other fund-raising for non-profits like the Susan G. Komen foundation, Friends of Kids with Cancer and the Delta Dental Foundation of Illinois. She also volunteers for the Big Brothers Big Sisters of Southwestern Illinois as a promotions committee member and as a Big Sister for a young girl.
About Cope Plastics
Cope Plastics is the premier distributor and fabricator of plastic sheet, rod and tube across the Midwest delivering solutions to our valued customers since 1946. The company is proud to be a certified Women Owned Business by the NWBOC since 2012. Visit us at http://www.copeplastics.com
About United Way of Greater St. Louis
United Way of Greater St. Louis is a local organization, helping about 1 million people in 16 counties in Missouri and Illinois. They are committed to using donations wisely, locally and effectively to make a positive difference in the lives of people in our community. Find out more at http://www.stl.unitedway.org