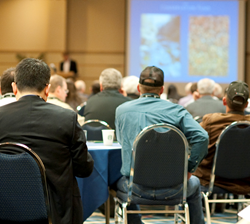 From its inception, the Small Log Conference has been regarded as a premier networking event.
Coeur d'Alene, Idaho (PRWEB) February 16, 2015
A pre-conference tour of the new HewSaw SL250 installation at the Idaho Forest Group sawmill at Lewiston, Idaho, kicks off the latest Small Log Conference, which will see the forest products industry's leading decision makers convene at the Coeur d'Alene Resort, March 24 – 26, 2015. The all-day bus tour, which also visits a well-run wood pellet mill at Hauser, launches three days of networking and education focusing on the latest innovations and insights in log processing, biomass, cross-laminated timber, wood exports, and much more.
From its inception, the Small Log Conference has been regarded as a premier networking event. With the mid-week conference now extended to two full days, the event offers a variety of sessions, breaks and receptions geared to increasing networking and business opportunities. As for those attending the industry tour, the brand new HewSaw SL250 line breaks all the stereotypes. Set up in a light-filled room with wood accents, the innovative system, the first of its kind in North America, has doubled production at the Lewiston plant. There are still some seats available on the tour, but they are selling quickly.
The conference again features a reverse trade mission, this time bringing Japanese and Taiwanese manufacturers and buyers looking to increase marketing connections between Asia and western wood producers. Lumber producers looking to diversify their markets will be eagerly anticipating the opportunity to connect with leading Asian buyers.
New this year will be multi-track educational panels allowing attendees to sit in on a variety of presentations catering to their specific interests and specialties. For example, one track will feature the newest in small log handling equipment, while a concurrent track will cover new and emerging markets for small diameter and under-utilized logs. Forest management, wood pellet production, woody biomass innovations, biofuels, green building, and new and emerging markets are just a sampling of the topics covered during the multi-track agenda. As always, the exhibit hall will be brimming with the latest in small log processing innovations and various representatives of the forest industry.
A popular subject, "How we affect change on national forests," will cap the conference with an in-depth look at the 4FRI project in Arizona, presented by journalist Claudine LoMonaco of High Country News. Duane Vaagen, President of Vaagen Brothers Lumber in Colville, Washington, will talk about some possible solutions for bringing change to federal forest management.
Sponsors include Rawlings Manufacturing, Waste to Wisdom, Rawlings Industrial, Comact, Pellet Fuels Institute, HewSaw, Vaagen Bros. Lumber, Ponsse, USNR, Plum Creek Timber, and Idaho Forest Group.
For more information on the Small Log Conference, visit http://www.logconference.com