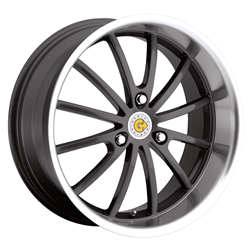 We created Genius Wheels to produce high performance, lightweight Smart Car wheels engineered for complete compatibility with these innovative vehicles.
Huntington Beach, CA (PRWEB) February 28, 2014
Smart Cars, coupe, cabriolet or the new Electric Drive, sets itself apart with an array of customization options no other vehicle manufacturer can match. That includes vinyl super graphics like Hello Kitty, Camouflage and Argyle and, now a BRABUS "tailor made" program. For Smart Car owners bitten by the personalization bug, Genius Wheels offers custom Smart Car wheels that add both pizzazz and performance to the diminutive two seaters.
"We created Genius Wheels to produce high performance, lightweight Smart Car wheels engineered for complete compatibility with these innovative vehicles," noted Genius Wheels president Terence Scheckter. "NEWTON and DARWIN both give highly individualistic Smart Car owners an added opportunity to express themselves while improving both the look and handling of their unique vehicle," Scheckter added.
Getting into the spirit of the Smart Car personality, Genius aftermarket Smart Car wheels are offered in two models, named NEWTON and DARWIN. Like the Smart Car itself, NEWTON wheels are a perfect example of form following function. The clean, straightforward six-spoke design is in perfect sync with the Smart Car's innovative spirit and nimble agility. The original Genius wheel, designated DARWIN, features six large "tuning fork" spokes radiating out from the unique Smart Car three-lug center hub. Like the Newton, it is available in 15-inch and 17-inch staggered pairings. Available finishes include Matte Black and Gunmetal with a Mirror-cut lip.
Staggered fitments is a performance enhancement fully supported by Genius Wheels. It means that the rear wheels are slightly wider than the front wheels, giving the Smart Car a more aggressive appearance and enabling owners to fit lower profile and typically wider tires. The low profile tire often performs better when cornering and braking as tire roll is greatly reduced. For example, 15-inch wheels are offered in 5.5-inch width for the front axle and 6.5-inch width for the rear axle; 17-inch wheels have 6.0-inch wide front wheels and 7.5-inch wide rear wheels. The custom smart car wheels are made exclusively with the Smart Car's 3-lug bolt pattern, and are compatible with the factory supplied lug bolts. Same is true for the Smart Car logo center cap and the factory tire pressure monitoring system (TPMS). All Genius Wheels are hub centric for a smooth, vibration-free ride.
The Genius Wheels website provides product photos for downloading and complete technical specifications at http://www.geniussmartcarwheels.com. The website also showcases a "Configurator" tab which enables shoppers to select their year, model and color Smart Car, then preview how the various Genius Smart Car wheels will look on their vehicle. The site also features a gallery of photos uploaded by Smart Car owners showing off their vehicle with Genius Wheels mounted.
Genius dealers can be found by calling 888-766-7775 or by searching by zip code on the website. Genius Wheels are part of the TSW family of aftermarket wheel companies. TSW Alloy Wheels, founded by a former Formula One driver, is born from a rich racing heritage, which infuses the company's relentless commitment to precision and performance.