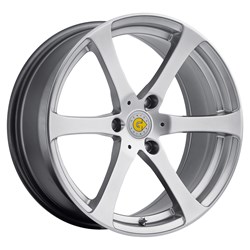 That's one of the reasons why so many have turned to Genius Wheels for that extra twist on the Smart Car persona, departing from the norm to 'think different' by driving different
Huntington Beach, CA (PRWEB) August 31, 2013
Smart Cars brag they are "100% customizable," even allowing each of the car's 14 body panels to be a different color. Genius Wheels takes that concept to the next level, offering custom Smart Car wheels that enable owners to add a distinctive finishing touch to their already unique vehicles. That includes Smart Car rims for the new Smart Electric Drive, as well as Smart fortwo wheels for the Pure Coupe, Passion Coupe and the Passion Cabriolet.
Genius Wheels was created solely to cater to the needs of the Smart crowd, designing and manufacturing high performance, lightweight Smart Car rims exclusively. "Smart Car owners are at very least highly individualistic," observed Terence Scheckter, President of Genius Wheels. "That's one of the reasons why so many have turned to Genius Wheels for that extra twist on the Smart Car persona, departing from the norm to 'think different' by driving different," Scheckter added.
The newest Genius wheel is appropriately named Newton. Like the Smart Car itself, Newton wheels are distinctive, yet highly practical. The Newton is a one-piece masterpiece forged from advanced, weight-saving alloy. The clean, straightforward six-spoke design is in perfect sync with the Smart Car's innovative spirit and nimble agility. It is available in two staggered configurations. A staggered configuration means that the rear wheels are slightly wider than the front wheels, giving the Smart Car a more aggressive appearance while also advancing greater off-the-line traction and higher lateral acceleration. The Newton pairs 15-inch wheels with 5.5-inch front wheels and 6.5-inch rear wheels, and 17-inch wheels with 6.0 inch front wheels and 7.7 inch wide rear wheels. The Newton is finished in Matte Black or in Hyper Silver.
The original Genius wheel, designated Darwin, features six large "tuning fork" spokes radiating out from the unique Smart Car three-lug center hub. Like the Newton, it is available in 15-inch and 17-inch staggered pairings. Available finishes include Matte Black and Gunmetal with a Mirror-cut lip. All Genius custom smart car wheels accept the original equipment Smart Car center hub, are compatible with the factory lug nuts and tire pressure monitoring system. They are designed to be hub centric for a smooth, vibration free ride.
The Genius Wheels website provides complete product specifications at http://www.geniussmartcarwheels.com/smart-car-wheels-newton.php. The website also showcases a configurator which enables you to select the year, model and color Smart Car you own, then preview how the various Genius Wheels for Smart Cars that will fit your model will look on your vehicle.
For a dealer near you, call 1-800-766-7775 or visit Genius Wheels on the web to search for dealers by zip code. Genius Wheels are part of the TSW family of aftermarket wheel companies. TSW, founded by a former Formula One driver, is born from a rich racing heritage, which infuses the company's relentless commitment to precision and performance.