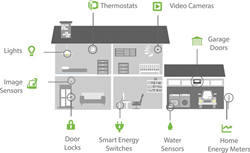 Northern, Va (PRWEB) January 26, 2015
A smart home automation Northern, Va video reveals new products that can help improve a home in a way that could enhance control of various systems and devices in the home. For a homeowner, the benefits of smart home automation systems are endless especially with HVAC systems, not to mention home security systems. Aside from providing enhanced home surveillance, a trusty smart home automation service provider could give way for improved energy management. Smart home automation is definitely a smart choice.
Normally, home automation systems allow one to deal with home automation apps. These can basically give control over home systems from anywhere inside the home even at remote places. These apps are usually installed in the smartphones that the homeowners have. Just with the tip of one's fingertips, access to home automation system is possible even when away from home. Using tablets or smartphones, adjust system settings inside a home or obtain access to energy management data easily. Examples of devices that could be controlled using home automation apps are surveillance and video, sensors, smart locks, energy meters, and thermostats.
One of Turner's Service Co. Inc.'s main services revealed from the smart home automation Northern, VA video deals with improving the heating and cooling energy efficiency of a home. Aside from having the power over home HVAC systems, a homeowner is also assured of the comfort he or she could experience in being able to easily control thermostat settings, for example. With smart home automation, one saves time and effort from going back in case temperatures need to be adjusted at any time of the day. With just a mobile application, everything is possible.
Turner's Service Co. Inc. also takes pride in providing accurate and valuable data regarding home energy use. This in turn allows energy monitoring which can provide insight on how to conserve energy in the future. This could be used to set goals in lowering utility and en energy bills. Through this reliable report, smart schedules can be done so that energy is conserved and comfort is maintained at the same time.
Another feature which Turner's Service Co. Inc. provides in home automation are home security components. They could keep a homeowner connected to various security devices such as cameras and even locks on doors. If unfortunately, a door was left unlocked or keys are left inside with no one to open the door, just the use of a mobile app could lock or unlock the door. And if a homeowner is concerned of burglars who might break in any time, home automation could also allow notifications to appear in a smartphone whenever motion is detected when there should not be.
Home automation system is definitely beneficial and a good investment in the long run. Turner's Service Co. Inc. has been one of the pioneers in this industry as they have highly trained professionals for this service. Contact them at 703-361-0816 for assistance on your next project.
Please visit the links below for more information or call 703-361-0816
https://www.youtube.com/watch?v=Q26LpHRz8GE
http://youtu.be/Q26LpHRz8GE
-------------------------------------------------
Turner's Service Co.
11512 Robertson Dr
Manassas, VA 20109
703.361.0816
http://www.turnersserviceco.com
info(at)turnersserviceco(dot)com