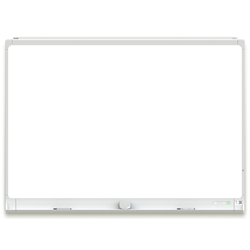 The SMART kapp 84 is the larger sibling to the already available SMART kapp 42.
Milwaukee, WI (PRWEB) January 20, 2015
IP Phone Warehouse is excited to announce the SMART kapp 84 capture board. This 84-inch dry erase board features digital capture technology to turn marker impressions into shareable, electronic images. Collaborating with remote meeting participants has never been easier.
SMART kapp 84 is the next generation dry erase board. Rather than trying to describe whiteboard sessions to others with shaky pictures or notes, images on this board can be shared in real time through a mobile app.
Connect up to two Android or iOS devices to the board. With the mobile app, anyone with a compatible smartphone or tablet can instantly capture screenshots of the board. Share sessions with up to five remote participants, save captures to the mobile device or upload them to a cloud storage service. Remote participants can watch ideas develop by accessing the captures through a web browser, while the storage options make captures accessible later.
The SMART kapp 84 is the larger sibling to the already available SMART kapp 42. Besides size, the other differences between the two are that the SMART kapp 84 has a laminate steel surface and can support an additional mobile device.
SMART kapp 84 features:

Bluetooth for wireless connectivity to a mobile device
Capture sessions directly from the board to a USB device
Mobile devices can be synced through a QR code or NFC
SMART Technologies will also release "Premium Services" for the SMART kapp boards. These premium services will be available through the SMART kapp app and will allow remote collaboration with up to 250 users simultaneously, rather than the standard five, and an option for a persistent URL to capture sessions.
IP Phone Warehouse features the whole family of SMART kapp devices. See the SMART kapp 42 and 84 here: http://www.ipphone-warehouse.com/SMART-Whiteboard-s/2268.htm. Contact IP Phone Warehouse by email: service(at)ipphone-warehouse(dot)com or phone: (888) 201-9056 to learn more about these cutting-edge collaboration solutions.
About IP Phone Warehouse
IP Phone Warehouse is the leading specialty reseller of VoIP phones, video conferencing equipment, IP cameras and network devices. We're stocked with everything that small businesses and enterprises need to deploy reliable VoIP and video solutions. A dedicated customer service team and a wide range of available online resources support every product at IP Phone Warehouse.