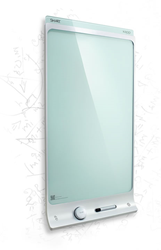 The steps for using SMART kapp are simple: Capture, save and share.
Milwaukee, WI (PRWEB) December 11, 2014
IP Phone Warehouse is announcing the next generation whiteboard, the SMART kapp 42" capture board. Download the SMART kapp mobile app to an Android or iOS device, sync it with the board's wireless connection, and start capturing ideas and sharing content. That's only the beginning of what this dry erase board can do.
The only way for coworkers to share notes from a regular old whiteboard is to try taking a shaky picture of it with their cell phone's camera. SMART kapp enables remote workers to view the board in real time from a web browser. Smartphones and tablets with the SMART kapp app and Bluetooth can view the board on their screen, create their own captures and share them through email or the cloud.
SMART kapp capture board's features:

42" dry erase board with glass surface
Digital capturing technology
USB port for local storage devices
Downloadable Android and iOS app
Bluetooth connection for mobile devices
QR code or NFC (Android only) pairing
Press the capture button on the board and remote users can watch sessions in real time, saved to a USB storage device. Through the mobile app, anyone in the meeting room can save the images to their own device or upload them to a cloud service. Share the content with remote users by emailing them a URL.
The steps for using SMART kapp are simple: Capture, save and share. The collaboration that this technology enables is tremendously beneficial for revisiting brainstorming sessions or inviting remote coworkers into meetings. Use a SMART whiteboard as a standalone solution, as well as alongside a video conferencing system or conference phone to enhance your dispersed workforce's cohesion on time-sensitive or critical projects.
For more information about the SMART kapp 42" capture board, see it here: http://www.ipphone-warehouse.com/SMART-kapp-42-Capture-Board-p/kapp42.htm.
Contact IP Phone Warehouse to learn more about SMART products, interactive whiteboards, smartboards and collaboration solutions for your business. Customer service representatives are available by email: service(at)ipphone-warehouse(dot)com, or phone: (888) 201-9056.
About IP Phone Warehouse
IP Phone Warehouse is the leading specialty reseller of VoIP phones, video conferencing equipment, IP surveillance cameras and network devices. We're stocked with everything that small businesses and enterprises need to deploy reliable VoIP and video solutions. A dedicated customer service team and a wide range of available online resources support every product at IP Phone Warehouse.