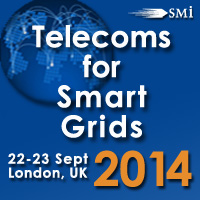 London (PRWEB UK) 5 July 2014
SMi's 4th Telecoms for Smart Grids conference, taking place on 22-23 September in London, will address challenges with innovation and future regulation relating to communications requirements for smart grid development and smart meter deployment with case studies from utilities including E.ON and ESB. The two-day conference programme will also feature keynote addresses from ZigBee Alliance, the Data and Communications Company (DCC) and the Department of Energy and Climate Change (DECC). Updates will be provided on what to expect in terms of future regulation, actions being taken to make the smart grid a reality in Great Britain, plus how wireless and M2M technology is enabling upcoming smart grid/meter/water developments across Europe.
Speaker Panel includes:

Adrian Butt, Policy Advisor, Smart Grids, Department of Energy and Climate Change
Jonathan Simcock, Managing Director, Data Communications Company
Gilles Thonet, Managing Director Europe, ZigBee Alliance
Markus Hofsaess, Project Manager, Smart Meter Communication, Technology& Solutions, E.ON
Denis O'Leary, Head of Smart Energy Technologies, ESB
Prof. William Webb, CEO, Weightless
John Bourke, Head of Systems and Services, Satellite Applications Catapult
Prof. Dragan A. Savic, Professor of Hydroinformatics and Head of Engineering, University of Exeter
David Greer, Executive Director Institute for Information Security, University of Tulsa
Mark Ossel, Board Member, OSGP Alliance
Colin Mallett, Director, Smart Homes & Buildings Association
To view the full speaker line-up and complete two-day conference programme, visit http://www.smi-online.co.uk/2014telecoms-smartgrids8.asp.
Plus, don't miss the half-day post-conference workshop taking place on 24th September:
Business Choices: Choosing the Telecoms System for Smart Grids
Led by: Andrew Thomas, Divisional Director & Dr. Andrew Wheen, Principal Consultant, Information Communications Technology, Mott MacDonald | 8.30 - 12.30