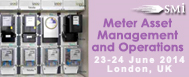 London (PRWEB UK) 1 June 2014
Europe's national governments play a key role for the adoption of smart metering. The EU's highly publicised targets includes a recommendation for the member states to evaluate the technology and introduce it – if there is a positive business case. Over the past years, almost all European countries have performed cost benefit analyses of smart metering and the majority of the cases have resulted in a recommendation to go ahead with a rollout. At the end of 2013, thirteen European countries had developed regulatory roadmaps for the full-scale introduction of smart electricity meters and at least five more were close to making the same decision. Seven countries have also committed to nationwide rollouts of smart gas meters. The UK has the most extensive smart metering program where 53 million electricity and gas meters will be networked through 30 million wireless communications hubs before 2020. The high growth rate will be sustained until the end of the decade as nationwide rollouts are completed in France, the UK and several other countries. Furthermore, a decision by Germany to introduce smart metering would extend the strong momentum for smart meters in Europe into the mid-2020s.
With so many companies, whether they be the energy/water suppliers themselves or meter asset management companies, finding themselves mired in this transitional phase, SMi's Meter Asset Management and Operations conference will feature an array of case studies from leading European utilities detailing the progress of their own smart meter roll out programmes. The two-day programme will provide practical insight on managing the meter assets already held by utilities, and planning for the burst of activity and sizeable workforce increase required to deliver smart meters into consumers' homes in a relatively short time frame.
Speaker Panel includes:

Eric Fowler, Head of Commercial and Regulatory Affairs, National Grid
Vickie Gibson, Managing Director, Energy Assets
Alan Doody, Head of Asset Management, British Gas
Dr. Thomas Perry, Meter Operations Manager, E.ON
Harri Hauta-aho, Project Manager, Fortum
Simon Harrison, Product Innovation Technology & Trialling Manager, Smart Programme, RWE npower
Stephen Dallas, Business Consultant, EDF Energy
Vic Tuffen, Vice President, Energy and Utilities Alliance
Roger Stoney, General Manager Metering, SmartMOp
Dr. Howard Porter, Chief Executive Officer, BEAMA
Dave Gregson, Director of Operations, Calvin Capital
Matthew Oakley, Development Manager, Electralink
Julian Anderton, Head of Operations, Energy UK
Jo Gilbert, Director, Smart Change
To view the full speaker line-up and conference programme, visit http://www.smi-online.co.uk/meter23.asp.
Plus, don't miss the post-conference workshop on taking place on 25th June 2014:
UK Smart Meter Roll Out| Led by Vic Tuffen, Technical Director, Tuffentech Services Ltd | 08.30-16.30