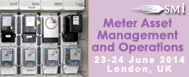 London (PRWEB UK) 8 June 2014
Utilities across Europe face the prospect of meeting the EU's goal of installing smart meters for 80% of consumers by 2020. National plans for meeting this target vary considerably across the continent with Italy and Sweden having completed physical roll out without fully utilising smart meter functionality. Gas, electricity, and water suppliers face similar challenges in managing existing meter assets and where appropriate planning for the roll out and maintenance of smart meters.
With so many companies, whether they be the energy/water suppliers themselves or meter asset management companies, finding themselves mired in this transitional phase, SMi's Meter Asset Management and Operations conference will feature an array of case studies from leading European utilities detailing the progress of their own smart meter roll out programmes. The two-day programme will provide practical insight on managing the meter assets already held by utilities, and planning for the burst of activity and sizeable workforce increase required to deliver smart meters into consumers' homes in a relatively short time frame.
Speaker Panel includes:

Eric Fowler, Head of Commercial and Regulatory Affairs, National Grid
Vickie Gibson, Managing Director, Energy Assets
Alan Doody, Head of Asset Management, British Gas
Dr. Thomas Perry, Meter Operations Manager, E.ON
Harri Hauta-aho, Project Manager, Fortum
Simon Harrison, Product Innovation Technology & Trialling Manager, Smart Programme, RWE npower
Stephen Dallas, Business Consultant, EDF Energy
Vic Tuffen, Vice President, Energy and Utilities Alliance
Roger Stoney, General Manager Metering, SmartMOp
Dr. Howard Porter, Chief Executive Officer, BEAMA
Dave Gregson, Director of Operations, Calvin Capital
Gavin Jones, Business Development Director, Electralink
Julian Anderton, Head of Operations, Energy UK
To view the full speaker line-up and conference programme, visit http://www.smi-online.co.uk/meter23.asp.
Plus, don't miss the post-conference workshop on taking place on 25th June 2014:
UK Smart Meter Roll Out| Led by Vic Tuffen, Technical Director, Tuffentech Services Ltd | 08.30-16.30