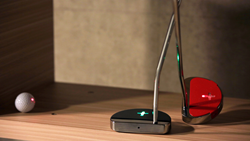 Golfers need a putter that can train them and still function as a gamer on the green. That's the Smart Putter
San Jose, California (PRWEB) June 06, 2017
The painful experience of missing the hole with a putt is quite common. The challenge of hitting the ball with proper alignment for the right path maintaining a level swing is not an easy one. The Smart Putter, now live on Kickstarter, is the solution for the golfer's putting challenge. With its built in LED level indicator, laser alignment pointer, and mobile app, it's aimed at fixing your putting in a way no solutions other have done before.
https://www.kickstarter.com/projects/smartgolf/smart-putter?ref=40bs0h
A consistent level swing and proper alignment are key factors when it comes to success with putting. The Smart Putter can help users do just that with its technology features. For horizontal movement and a stable swing, the built in LED level indicators on the head of the equipment light up instantly according to the level of the putter. For proper alignment, the laser pointer built onto the face of the putter can guide the golfer to ensure the ball is hit squarely for it to roll to the right path. With these features, golfers can expect to develop and sustain proper muscle memory that will grant them an early finish.
Although the features listed above are groundbreaking, there is another feature that will live up to the description "Smart." The head of the Smart Putter sends real-time angular and location data to a user's mobile device. The Smartgolf app will then provide the golfer with precise analysis of the putt, with the path, velocity, impact point, angle, and so on. These technological features promise effective putting training, but what good would all this be if it couldn't be used in a game? That's why the built in LED level indicators and laser point, along with the live connection with the mobile application, can all be turned off completely with the push of a button located on the putter.
The Smart Putter is currently available on their Kickstarter page. Golfers who wish to improve their putting can get the Smart Putter for $159 on Kickstarter. At a retail price of $299, this is a chance that should not be missed.
Smart Putter is a child of golf innovation startup Smartgolf. Smartgolf has been marching for the goal of providing accessible and effective golf practice methods and equipment to golfers of all levels since 2015. Smartgolf wants to introduce a new generation of golf practice equipment that would accommodate the demand for a more accessible and affordable practice method.