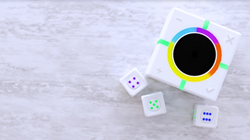 We consider Hubiz to be what's missing in the world of modern technology.
WIESBADEN, Germany (PRWEB) November 12, 2018
Designed by a team of German engineers, Hubiz brings back everyone's favorite classic board and dice games and combines them with technology from today. Hubiz has launched on Kickstarter in hope of exceeding their $40,000 funding goal in less than 35 days.
As the first-ever smart, audio-based gaming console, Hubiz consists of one console called "the Hub" with a built-in speaker, a mobile app and a set of connected dice, which work as controllers for up to 16 players. Every dice controller comes with 6 buttons (one on each side) that players use to answer questions from The Hub by either pressing buttons or rolling the dice. Hubiz then processes each answer, counts the scores of each player and continues to ask questions.
"We consider Hubiz to be what's missing in the world of modern technology," said founder Edris Afzali. "This console can bring back that nostalgic time when people would gather and have fun together. We believe that with this device, we can experience those happy moments again while incorporating technology."
Hubiz provides entertainment for up to 16 players at a time and allows for kids as young as four to participate. Additionally, the Hubiz mobile app connects to The Hubiz Console via Bluetooth. Consumers can then choose from a variety of games and pick levels like beginner, intermediate, and advanced levels, depending on the skill level of the players. Hubiz offers seven different categories of games, each with three different levels of difficulty. Categories range from quizzes, to tests to memory games.
The lightweight cube is easy to carry on the go and includes a rechargeable battery, allowing players to take game night anywhere. Hubiz can be the center of family time or one's next dinner party. Early backers can take advantage of pre-ordering Hubiz at an exclusive low price of $56. To learn more, visit http://pr.go2.fund/hubiz.
About Hubiz
The German-based team behind Hubiz Console believes that Hubiz is the missing piece to the modern and technological world of today's puzzle. The team has a goal to bring back the time before the emergence of state-of-the-art devices, when people would get gather and have fun together without smartphones. To learn more, visit https://hubiz.games/.