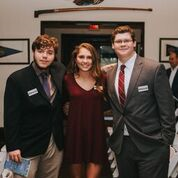 I could not be more thankful for who I am
NORWALK, Conn. (PRWEB) May 14, 2019
The 2019 Fred J Epstein Youth Achievement Awards (YAA) were presented at the Smart Kids with Learning Disabilities annual benefit on Friday, April 26, 2019 at the Indian Harbor Yacht Club in Greenwich, Connecticut.
The award, named for pioneering pediatric neurosurgeon Dr. Fred J. Epstein, recognizes outstanding achievement by young people with learning disabilities (LD) or ADHD. Dr. Epstein credited his significant learning disabilities as a major factor in his success and became an inspiration to children with LD.
The winner of this year's $1,000 award is Zachary Dillon from Tecumseh, MI. For years, Zack struggled with ADHD. After unwittingly volunteering to man high-tech broadcast equipment and cameras for live coverage of a high school football game, Zack found his passion. He loved broadcasting. Now 17 and a senior, he is a Sports Producer for LISDTV and has won a National Academy of Television Arts & Sciences Award, better known as a "student Emmy," in addition to an award from the Michigan Association of Broadcasters for Best Daily Sportscast. He plays 6 instruments, works part-time, and is being recruited by multiple colleges to play football.
"I could not be more thankful for who I am," Zack says, "and for having adapted to using ADHD as a tool for success."
For the first time in the award's history, two Special Recognition Awards were presented: Caleb Hall from New York City and Julia Wakin from Princeton, NJ. Caleb, 17, is described by his teachers at The Churchill School as a student who "comes around once or twice in a lifetime." He is fearless in facing challenges, including dyslexia. He has harnessed his creativity on projects for the Adaptive Design Association (ADA), where he reports to MacArthur "Genius" Fellow Alex Truesdell, developing customized furniture for kids with physical disabilities. Julia is a high honors student at The Pennington School, a skilled athlete, accomplished violinist, singer, actress, and the leader of several service-based community groups. Since she was a young child, Julia has trained service dogs for disabled persons as a member of a K-9 Support Team. She is a local chapter leader for the national non-profit Eye to Eye. Julia is dedicated to eliminating misconceptions and stigma faced by dyslexics, like herself.
Honorable Mentions were awarded to:

Kayla Bissell, Eagleville, PA
Kayla learned to manage ADHD, auditory processing disorder, and a reading comprehension disability, though it took a years before a teacher recognized her learning challenges. She is a member of National Honor Society, captain of the district champion varsity cheer team, and recipient of recognitions for leadership and scholarship.

Trinity Brubaker, Longmont, CO
Multiple learning challenges have not limited Trinity's achievements in competitive archery. She is the 2018 Colorado (JOAD) Cadet Girls Barebow State Champion, Junior Olympic Archery Development Team member, 2018 Junior Olympic Archery Division champion of the year, and state champion.

Walter Henry, Syosset, NY
Walter had to work very hard in the classroom because of his dyslexia. That dedication has served him well as a competitive sailor; he won the gold medal in the 420 Class at the 2018 Youth World Sailing Championship, as well as the 2018 International Yacht Racing Union World Youth Sailing Championship Trophy.

Donnie Minor, Jr., Naperville, IL
Struggling with ADHD and severe anxiety has led Donnie to focus on helping others, developing an ongoing program to provide uniforms and school supplies to disadvantaged students. His efforts have won him Silver and Bronze Presidential Service Awards, and the NAACP Young Leaders Award.
The selection committee, co-chaired by Ilana Epstein Grady, Stacey Hafen, and Sharon Miles, received nearly 100 applications from across the country. "These students excel in academics, performing arts, and athletics," said Mrs. Miles. "They are poised, confident, and a delight to meet. We had such a talented pool of applicants."
About Smart Kids with Learning Disabilities, Inc.
Smart Kids with Learning Disabilities, Inc. is a nonprofit organization dedicated to empowering the parents of children with learning disabilities (LD) and attention deficit disorders (ADHD) via its educational programs, award-winning website and blog, and free e-newsletter. The organization also educates the public about these children's gifts and talents. Connecticut Governor Dannel Malloy, Anne Ford, and The Southport School Headmaster Dr. Benjamin N. Powers are Honorary Board Members. Henry Winkler, Golden Globe award-winning actor, director, and author, serves as the organization's Honorary Chairman. For more information, visit http://www.SmartKidswithLD.org.