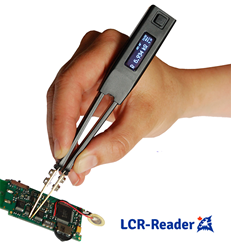 We have created both a 4-wire and 2-wire Verification Jigs for calibration of all models of Smart Tweezers as well as the LCR-Reader
Waterloo, Ontario (PRWEB) July 31, 2015
Over the past year, Siborg Systems Inc, in Canada, and the Institute of Automation and Electrometry of the Russian Academy of Sciences have created a calibration jig for Smart Tweezers LCR-meters. Siborg has sent the jig to Navair Technologies in Toronto, Ontario for NIST certification. Navair Technologies is one of Canada's top calibration facilities for NIST certification of measurement equipment.
The calibration jig cannot create NIST certificates, but is a helpful tool for periodic calibration of the Smart Tweezers and LCR-Reader LCR-meters as well as troubleshooting devices that have malfunctioned or failed.
The finalized jig uses a set of 14 known components of different types and within the Smart Tweezers measurements ranges. Unlike previously announced calibration jig that uses a 4-wire Kelvin probe connection to connect to the calibrated LCR-meter, it now uses a 2-wire connection to the device, thus allowing to calibrate all models of Smart Tweezers ever made.The measurement value is displayed on the Smart Tweezers' display which can than be compared to the known value of the component to determine the accuracy.
"We have also decided to create two versions the Verification Jig for both 4-wire and 2-wire terminals. The jig is helpful in that it can be used for periodical traceable calibration if the jig is calibrated by a certified agency. The 4-wire jig is best for models after Smart Tweezers ST-3, including the LCR-Reader. The 2-wire jig can be used for models before and including the ST-3," says Michael Obrecht, the Director of R&D at Siborg.
Although a 4-wire connection minimizes noise generated by the connections of the PCB, it does not offer calibration to older Smart Tweezers models. The 2-wire terminal is best suited for Smart Tweezers ST-1, ST-2, and ST-3, where the 4-wire connection wasn't used in the handles.
Siborg sent along 4 randomly selected LCR-Readers to Navair for testing; the results sent back showed better than expected results for basic accuracy. LCR-Reader was claimed to have a 1% basic accuracy where as the measurement results showed closer to 0.5%.
Smart Tweezers LCR-meter and the recent LCR-Reader are popular LCR-meters that are designed for troubleshooting and testing Surface Mount Devices (SMD). Surface Mount Technology (SMT) is a primary technology for electronics. SMT components are very small and one can easily lose track of their values. LCR-Reader and other Smart Tweezers LCR-meter models are nearly pen-sized devices that quickly evaluate SMT Resistors, Capacitors and Inductors using only one hand. Currently they are recognized professional LCR-meters that automatically determine the component type and a proper range and signal frequency for the maximum accuracy.
All the latest news about Smart Tweezers and LCR-Readers are available on the Smart Tweezers and LCR-Reader Blogs.
About Siborg Systems Inc.
Established in 1994, Siborg Systems Inc is a source of engineering hardware and software tools for the semiconductor and electronics industry. Located in the city of Waterloo, Ontario, Canada, it enjoys being a part of the local world renowned high-tech community.
Contact:
Siborg Systems Inc
24 Combermere Cres.
Waterloo, Ontario
Canada
N2L 5B1
Tel: 1519-888-9906
Fax: 1519-725-9522
About the Institute of Automation and Electrometry
The Instiute was founded in 1957 among the first institutes of the Siberian Branch of the Russian Academy of Sciences. Research directions of the Institute comprise of optics and laser physiscs, fundamental and applied research and development of laser and optical technologies, system architecture, mathetmatical modesl and software for data processing and recognition systems, data analysis and control systems for complex dynamic process.
Contact:
Institute of Automation and Electrometry
Academician Koptug Ave 1, Novosibirsk, Russia, 630090
Tel: +7 (383) 330-1239
Fax: +7 (383) 333-3863
Navair Technologies Inc.
3675 Dixie Road, Unit 7
Mississauga, Ontario
Canada
L5T 2E7
John Raposo, Director Operations
Tel: 1-800-668-7440, Ext: 226