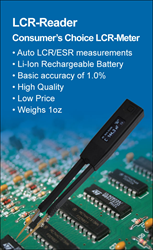 LCR-Reader and Smart Tweezers Colibri simplify SMD identification and PCB debugging
Waterloo, Ontario (PRWEB) December 31, 2014
The Smart Tweezers line of handheld LCR-meters offers users an alternative way to testing and troubleshooting Surface Mount Technology without needing to fuss with long wire probes or setting-up between measurements. Smart Tweezers ST-5S, LCR-Reader and the newer Smart Tweezers Colibri are the unique combination of a set of tweezers with an LCR-Reader in a nearly pen-sized 1 oz. device. Recently updated, the newest design features a slimmer body and bright OLED display.
Surface Mount Devices are notoriously small and are generally unlabelled, making it difficult to keep track of certain components. The Smart Tweezers LCR-meters are able to automatically identify the component and measure for Inductance, Capacitance or Resistance as well as secondary values such as the Equivalent Series Resistance also known as ESR. All measurement values and test parameters are instantly displayed on the device.
The three devices available offer customers a wide range of selection for the best device to fit any budget. The ST-5S is a higher cost device with more features and a higher basic accuracy of 0.2%. This model comes with an NIST traceable calibration certificate, and offers features such as component sorting with variable tolerances, offset subtraction and diode/continuity testing. The LCR-Reader is the most cost effective model with a basic accuracy of 1%, and offers the most basic features with fully automatic and manual measurement modes. All devices are powered by a Li-Ion battery and are rechargeable via micro-USB.
The newest model is a tweaked version of the LCR-Reader with a few more features and comes with high-precision tips. Both the LCR-Reader and the Colibri are controlled with a one button navigation; on the LCR-Reader, the user could only control the measurement mode by pressing the button, with each press cycling through A, L, C, or R. For the Colibri, the ability to change the test frequency to 100 Hz, 1 kHz or 10 kHz in between measurement modes, allowing the user to better customize measurements for specific jobs.
Colibri also offers the ability to completely reset the device to the default Automatic Mode by pressing and holding the button. The Colibri comes with high-precision tips which offer a better reach on components to a 0201 size on even most crowded PCBs. The device measures, same as LCR-Reader, with a 1% basic accuracy, and a fixed 0.5Vrms (the fixed signal may hinder testing ceramic capacitors). Colibri, and all other Smart Tweezers models, will automatically shut off after 60 seconds of inactivity.
The Smart Tweezers line of handheld digital LCR-meters are the solution to all problems with testing and troubleshooting electronics manufactured with Surface Mount Technology. Once used, they become an indispensable tool for repairing or building PCBs.
In the past 20 years, Siborg has created products for the semiconductor and electronics industry including MicroTec and SibLin. These products have been licensed to major companies like General Electric, Spectrian, Hitachi, and Spectrian, as well as many universities globally including the University of Waterloo, Tokyo Institute of Technology and UC Berkeley. Their Smart Tweezers LCR-meters have also become a success with their instantly recognizable design with high accuracy measurements in an easy-to-use device.
Visit the new Siborg Dominican website for latest activities at Siborg.
About Siborg Systems Inc.
Established in 1994, the main objective of Siborg Systems Inc. is the development and production of different kinds of scientific software. With more than 25 years of experience in computational physics and more than 17 years in semiconductor device modelling. Located in the city of Waterloo, Ontario, Canada, it enjoys being a part of the local world-renowned high-tech community.
Contact Info:
Siborg Systems Inc.
24 Combermere Crescent
Waterloo, Ontario
Canada
N2L 5B1