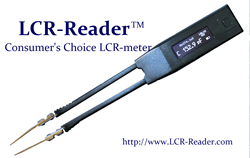 Accurate, Fast and Easy-to-Use LCR-meter for Surface Mount Technology
Waterloo, Ontario (PRWEB) January 31, 2015
Canada based Siborg Systems Inc. have furthered the availability of the Smart Tweezers and LCR-Reader line of electronic LCR-meters with a new distribution partner: King Hor's Enterprise Co. Ltd. in Taipei. This new partnership will help reach a wider customer base in Taiwan and surrounding Asian areas.
Smart Tweezers LCR-meter and LCR-Reader are fully automatic LCR-meters capable of automatically determining the type of component and the best test ranges for high accuracy measurements. The devices require no set-up between measurements and measure with just a touch of the gold-plated probes to a component.
King Hor's Enterprise Co. Ltd., based in Taipei, are a supplier of precise electronic instruments and equipment for over 30 years. They provide full customer service and first stage product analysis. King Hor's Enterprise is currently expanding into custom textile exporting.
"We know the LCR-meter market here very well in Taiwan and have a strong customer base with product and technical knowhow. We believe that our customers will greatly appreciate the Smart Tweezers line of LCR-meters." says Charles Ho at King Hor's Enterprise.
Smart Tweezers first began in the early 2000's and have become a global success for the unique design that combines a set of tweezers and an LCR-meter in a nearly pen-sized one-handed use device. The sharp tweezers allow users to easily access components, loose or already mounted. When in contact with a component, Smart Tweezers and LCR-Reader automatically determine the type of component and instantly display the main measurement results and the secondary values on the embedded OLED display.
The LCR-Reader was the first to debut the new look of Smart Tweezers with a 1 oz weight, slimmer body design and bright display. The LCR-Reader is the "budget" model in the Smart Tweezers line; designed to retail for less than $200 USD, this model is for non-professionals looking for a Smart Tweezers-like device that don't want to compromise the accuracy. This model offers uses a one-button navigation that allows users to easily change the measurement mode by cycling through with each press. To be able to offer the device at below $200 USD, Siborg omitted some features found on the Smart Tweezers devices; such as component sorting, variable tolerances, and continuity and diode testing. A new version of the LCR-Reader is the Colibri. The Colibri is a slightly updated LCR-Reader with a few added features; this model offers users to change the test frequency by pressing the button as well as the measurement mode. The Colibri also features more precise gold-plated probes, more akin to those found on the Smart Tweezers devices.
Specifications and Features found on LCR-Reader:
-Fully Automatic L, C, R and ESR measurements
-Basic accuracy of 1%
-Automatic Best Range
-1 oz. weight
-Li-Ion battery, rechargeable via micro-USB
Siborg Systems Inc. is excited by the new distribution deal with King Hor's Enterprise, which will offer customers in Taiwan and Asia a shorter wait time when they order devices or need to have them serviced. Visit the Smart Tweezers' Blog and the LCR-Reader Blog for all the latest news.