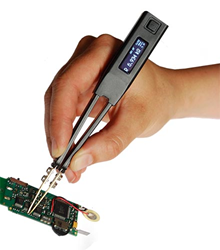 "These new distribution deals will further access to Smart Tweezers and LCR-Reader LCR-meters in China and surrounding Asian areas."
Waterloo, Ontario (PRWEB) October 31, 2014
Siborg Systems Inc. in Canada has furthered their distribution channels in China and surrounding Asia with new marketing partners. These new deals make Smart Tweezers LCR-meter line of products including the latest LCR-Reader more accessible to customers in China and surrounding Asia.
Smart Tweezers and LCR-Reader are a handheld alternative to testing and troubleshooting Surface Mount Technology with conventional meters. Smart Tweezers is held and operable with one hand and provides instantaneous, high accuracy measurements of all components, including those already in a circuit. By grasping a component between the tweezers' tips Smart Tweezers and LCR-Reader are able to determine the type of component and best test range to provide instant Inductance, Capacitance or Resistance values of a component, while also measuring for secondary values such as the Equivalent Series Ressitance (ESR).
For the past decade, the Smart Tweezers LCR-meter' design has become instantly recognizeable; the combination of a set of sharp gold-plated tweezers and an LCR-Reader that fits in the palm of your hand allows users to easily test components while leaving one hand free for taking notes or other tasks.
Siborg has recently gained more distributors in China. These companies already offer products and tools for the electronics industry, including components and test equipment. The new distributors include:
Sugimoto China; based in Shenzhen, offers more than 500 000 kinds of domestic and international famous brands of industrial products, including tools, equipment and materials.
Shenzhen Maple General Technology Co.; founded in 2004, with headquarters in Nanshan District, Shenzhen Science and Technology Park, Shenzhen Maple General Technology Co. has become one of the largest equipment dealers, systems integrators and integrated service providers. They also have offices in Hong Kong, Shanghai, Guangzhou, Zhuhai and Dongguan.
Shanghai PanXi Electronics Co. Ltd.; based in Hong Kong, Shanghai PanXi Electronics Co., Ltd. is a distributor of imported testing equipment, including LeCroy, EA, Agilent Instruments and other famous manufacturers products.
These new distributors will offer the Smart Tweezers line of LCR-meters to new customers as well as provide a more local support to Smart Tweezers users that may need to send their device for maintenance or calibration. With these distributors, customers won't have to wait as long for shipping from North America, or long wait times at customs.
Currently there are two models of Smart Tweezers available; the LCR-Reader and the ST-5S. Both models offer fully automatic, high accuracy measurements with just a touch. The LCR-Reader is the consumer's choice for LCR-meters; this model was designed for non-professionals and hobbyists alike that are looking for a device like Smart Tweezers without the high price. This model is offered at less than $200 USD, and offers features such as:

Fully automatic Inductance, Capacitance and Resistance and Equivalent Series Resistance (ESR) measurements
Basic accuracy of 1%
Automatic best range selection
1 oz. weight with ergonomic design
Li-Ion battery with micro-USB charging (not included)
The ST-5S model is the professional model and offers a higher basic accuracy of 0.2%, more features such as component sorting, diode and continuity testing, and semi-automatic offset subtraction. This model has a high price and is currently used by many major high-tech companies around the globe.
Smart Tweezers and LCR-Reader are an essential tool for any Surface Mount Technology work, with applications from manufacturing to repair and maintenance.
About Siborg Systems Inc.
Established in 1994, Siborg is a source of engineering software and hardware tools for semiconductor and electronics industry. Located in the city of Waterloo, Ontario, Canada, it enjoys being a part of the local world-renowned high-tech community.
Contact Sugimoto
Vivian Bian, Purchasing Dept.
Sugimoto Trade Co., Ltd.
A-1606 World Trade Plaza,
No. 9 Fuhong Road, Futian District,
Shenzhen, Shenzhen, Guangdong
China, 518030
Phone: 0755-83501888-879
Fax: 0755-89698555
Toll Free: 400-885-3088 / 400-885-4088
Contact Shenzhen Maple General Technology Co.
David Yip Wai
Universal Technology Co., Ltd. Shenzhen
Nanshan District, Shenzhen Science Park Road North on the 2nd New Oriental Harbor 2 301
Tel: 0755-86677030
Fax: 0755-83323909
Contact Shanghai PanXi Electronics Co. Ltd.
Bony Xi, Purchasing
19D, BeiHai Building, No. 859, Tian Yao Qiao Road
Shanghai 200030, China
Tel: +86 21-64867827, 64865993
Fax: +86 21-64867564