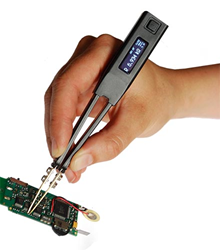 If you do any work on a PCB, once you use LCR-Reader it becomes an indispensable tool for all applications from manufacturing to repair or maintenance.
Waterloo, Ontario (PRWEB) November 28, 2014
The Smart Tweezers line of handheld digital LCR-meters have become a world renowned alternative device for testing and troubleshooting Surface Mount Technology since its indoctrination in the early 2000's. Since then, the device has evolved to have higher accuracy and more features, as well as gaining the consumer's choice LCR-Reader.
Both devices in the Smart Tweezers line, the professional model the ST-5S and the consumer's choice model the LCR-Reader are on sale for Cyber Monday on Monday December 1, 2014 from Siborg Systems Inc. The sale starts at 12:00 am Eastern Time and ends at 11:59 pm Eastern Time. Orders can be made from the links on this page or by phone or fax which can be found at the bottom.
Surface Mount Technology is becoming the leading manufacturing method for electronics, creating a need for more sophisticated test equipment. Surface Mount Technology uses small components that generally have no distinguishing marks to tell one apart from another, making it difficult to keep track of the component or its value. Using conventional bench-type testers requires the user to stop and set-up between measurements, as well as both hands to work the long test leads which may be cumbersome. Smart Tweezers is a time-saving, easy-to-use alternative.
Smart Tweezers unique design combines a set of tweezers with an LCR-meter that is able to grasp components to a 0.3 mm size either mounted or loose. When contact is made, Smart Tweezers automatically determines the type of component and the best test range for the type of component. It then measures for Inductance, Resistance, Capacitance and Equivalent Series Resistance (ESR) values with high accuracy. All measurements are instantly available on the display, along with the component type, test range and secondary values.
Currently there are two models available, the ST-5S, a professional model with a basic accuracy of 0.2% and more features, and the LCR-Reader, the consumer's choice model. The LCR-Reader is less than $200, and was made for non-professionals looking for a device like Smart Tweezers. The LCR-Reader doesn't include features such as component sorting, diode and continuity testing, semi-automatic offset subtraction, or variable tolerances.
Features on the LCR-Reader include:

Automatic L, C, R and ESR evaluations
Basic accuracy of 1%
Automatic best range selection
Both Smart Tweezers and LCR-Reader have gotten a new look; a new bright OLED display provides better contrast for users, and a 1 oz. weight in a slimmer body makes the device ultimately portable and reduces hand fatigue while in use. Both are navigated using a one-button system; the LCR-Reader cycles through the measurement modes (Auto, L, C, R and ESR) when the button is pressed, and the ST-5S uses a directional joy-stick navigation, where different measurement options can be selected by pressing the button up, down, left or right, allowing users to quickly select measurement options without needing to access the menus. Both devices are powered by a Li-Ion battery and are chargeable via micro-USB.
"If you do any work on a PCB, once you use Smart Tweezers it becomes an indispensable tool for all applications from manufacturing to repair or maintenance. Smart Tweezers was designed with production lines in mind; an environment that moves quickly. Smart Tweezers provides fast and high accuracy measurements with no set-up required," says Michael Obrecht, the Director of R&D at Siborg.
See the evolution of Smart Tweezers at the History of Smart Tweezers, and to keep up on all the latest news about Smart Tweezers or LCR-Reader, visit the Smart Tweezers' Blog.
About Siborg Systems Inc.
Established in 1994, Siborg Systems Inc. is a source of engineering software and hardware tools for the semiconductor and electronics industry. Located in the city of Waterloo, Ontario, Canada, it enjoys being a part of the local world renowned high-tech community.
For more information
Siborg Systems Inc.
24 Combermere Crescent
Waterloo, Ontario
Canada
N2L 5B1
Tel: 519-888-9906
Fax: 519-725-9522
Web: http://www.siborg.com