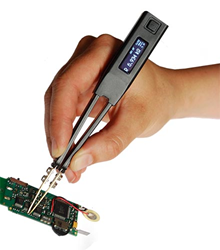 Indispensable tool measuring L-C-R and much more on a PCB
Waterloo, Ontario (PRWEB) June 30, 2014
After being available for 10 years, Smart Tweezers has evolved into a highly sought-after device for testing and troubleshooting Surface Mount Technology. From the beginnings of a hand-carved prototype to the newest models, the LCR-Reader and ST-5S, Smart Tweezers has come a long way. Siborg Systems Inc. has created an Online Archive for photos, manuals, and news from the ST-1 to ST-5S models.
The history of Smart Tweezers begins in 2000 with a hand carved prototype for a device that simplified the process of testing and troubleshooting Surface Mount Components. By grasping a component between the tweezers' tips, Smart Tweezers automatically determine the type of component and best test parameters for high accuracy measurement results. Instead of needing two hands to operate the probes on conventional bench type tester, Smart Tweezers offered users a one-handed use device with no set-up required. Because of their small size, many components do not have labels or identifying markings, making the components easy to misplace.
The first commercial model was officially available in 2004, the ST-1, with a plastic housing and gold plated tips. The ST-2 was the first model with replaceable tips, and by 2009 an inductance-charging model was developed prolonging the life of the device because it no longer needed to be taken apart to replace the batteries. A kit was made available for users that wanted to upgrade their models to the inductance charging. In 2011 the ST-5 model was released, the most popular model to date. This model offered a 0.2% basic accuracy and multiple functions and features. Siborg released the LCR-Reader; a lower priced model for non-professionals in 2013. This model featured a slimmer design and bright OLED display. The ST-5S, the newest model, takes the look of LCR-Reader and combines it with all the features and accuracy found on the ST-5 model.
Siborg has created the Smart Tweezers Archive to help better differentiate between the many models of Smart Tweezers and their parts, as well as a collective of news over the years. This archive goes hand-in-hand with Siborg's updated catalogue for Smart Tweezers replacement parts. The collection offers users a better look into the parts they may need through pictures of housing, screens, tips, etc. as well as manuals, guides, and news such as the releases of new models, discontinue of older models, and any other technical milestones that Smart Tweezers has had.
Smart Tweezers are a simple solution to testing and troubleshooting electronic components, either loose or mounted, and for debugging circuits. With just a touch the device tells you everything you need to know: the component type, measurement value, secondary values such as the ESR, test parameters, etc. Smart Tweezers is also able to remove the parasitics for higher accuracy results, test circuitry and diodes, and sort components. It is an essential tool when components are unlabelled, it quickly identifies the component without any set-up required. Smart Tweezers surpasses all other similar devices available with more features and higher accuracy.
Smart Tweezers are currently being used by many major high-tech companies worldwide, and the LCR-Reader has been accepted by non-professionals as the go-to tool for testing and troubleshooting Surface Mount Technology.
For more information please contact:
Michael Obrecht
Siborg Systems Inc
24 Combermere Crescent
Waterloo, Ontario N2L 5B1
Canada
Tel: 519-888-9906
Fax: 519-725-9522
E-mail: info(at)siborg(dot)com
www(dot)siborg(dot)com