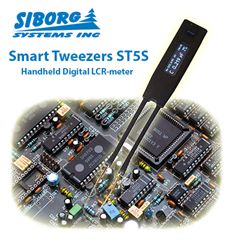 Unrivaled tool for any SMT and PCB related work
Waterloo, Ontario (PRWEB) July 30, 2014
Smart Tweezers from Siborg Systems Inc. have been made more easily accessible following a new deal to bring the devices to China and surrounding Asian areas, benefiting customers with shorter delivery and shorter wait times for customs.
Smart Tweezers are a fully automatic LCR- and ESR-meter in a handheld digital device. After being available for a decade, Smart Tweezers are currently being used by companies and professionals alike for all applications from manufacturing to maintenance and repair.
With Surface Mount Technology becoming the manufacturing standard, Smart Tweezers offers a fast and efficient method of testing and troubleshooting the components and their circuits. Held and operable with just one hand, Smart Tweezers takes the guess work out of performing these measurements. With just a touch of the gold plated tweezers tips to a component, Smart Tweezers is able to automatically determine the type of component and measure for Inductance, Capacitance or Resistance, as well as secondary values such as the ESR. The gold plated tweezer tips are able to grasp all types of components to a 0201 size or 0.3mm even on crowded PCBs. The embedded display instantly shows all the determined values.
Michael Obrecht of Siborg Systems Inc. says, "We are excited for this new agreement to distribute Smart Tweezers in China with Huizhou Kerui Trade Co. Ltd. This deal makes it easier for customers to get their devices faster and offers a more local place to send them for maintenance, instead of sending them back to North America."
The newest models of Smart Tweezers, the ST-5S, offer users the same functionality as the previous ST-5 model, with high basic accuracy and multiple functions, but with a new updated look. This device is a professional quality tool with a 0.2% basic accuracy, and features such as component sorting, semi-automatic parasitic offset subtraction, and continuity and diode testing.
Features include:
-Automatic L, C, R and ESR measurements
-Basic accuracy 0.2%
-Component sorting with 1%, 5%, 10%, 20% tolerance
-Adjustable test signals of 0.5 and 1.0 Vrms
-Parasitic offset subtraction feature
-Continuity and Diode testing
-Active and Reactive impedance components displayed
Siborg has also released a device for non-professionals at a lower cost, the LCR-Reader. This device offers users the same experience as Smart Tweezers, but with less features, a slightly lower basic accuracy, but at a lower price of less than $200 USD. The lower price makes the device more affordable to non-professionals and hobbyists looking for a handheld LCR-meter as an alternative to traditional bench-type testers. This device automatically determines the type of component and best measurement range, but uses a fixed 0.5 Vrms signal which can limit testing ceramic capacitors.
LCR-Reader features:
-Automatic L, C, R and ESR measurements
-Basic accuracy of 1% (about the same accuracy found on Smart Tweezers ST-2 and ST-3 models)
-Best test range selection
Both ST-5S and LCR-Reader are 1 oz. weight and run on a Li-Ion battery. Both also have a one-button navigation; the LCR-Reader will cycle through the test modes with each press, while the ST-5S uses a joystick like button that allows users to switch modes and test parameters without needing to access the menu.
Smart Tweezers have gained worldwide notoriety over the past decade as being an efficient device for testing and troubleshooting components and circuits used for manufacturing PCBS, and are currently being used by major high tech companies, professionals and non-professionals.
Visit the Smart Tweezers' Blog for all the latest news.
For more information about Smart Tweezers in China:
Mr. Li
Huizhou Kerui Trade Co. Ltd
Address: 12-4 Yating Ju Shangpai Daling Road Huicheng District Huizhou
Tel:0752-2275156 Fax:0752-2275158
About Siborg Systems Inc.
Established in 1994, Siborg Systems Inc. is a source of engineering software and hardware tools for semiconductor and electronics industry. Located in the city of Waterloo, Ontario, Canada, it enjoys being a part of the local world-renowned high tech community.
For more information:
http://www.siborg.com