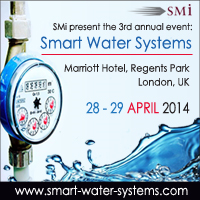 "...this event is a great platform to say what needs to be said, and push the agenda to think of the consumer solution first"Andrew Tucker, Water Strategy Manager, Energy Saving Trust
London, UK (PRWEB UK) 18 December 2013
SMi are proud to present the 3rd annual conference on Smart Water Systems, taking place on 28th and 29th April 2014, London UK.
The conference will be supported by sponsors such as NWAVE and Waterfall Security Solutions, plus official media partners including British Water, Global Water Intelligence and SBWWi.
Water utilities are relying on aging or inadequate infrastructure to meet growing demand, tough environmental targets, and increasing regulatory requirements. At the same time, utilities need to reduce non-revenue water losses and improve their operational efficiency.
Through industry driven case studies and keynote presentations from leading water utility companies, this event will aim to provide a comprehensive overview on smart water systems with a focus on new initiatives and technologies within smart metering, smart water irrigation, leakage, monitoring, optimising water usage, regulation, sustainability, policy plus much more. For further details on the agenda visit http://www.smart-water-systems.com
Andrew Tucker, Water Strategy Manager from Energy Saving Trust, who is scheduled to present at the summit commented:
"The Smart Water Systems conference provides an opportunity for multi-sector input into a rapidly growing agenda. With increasing drivers for smart technologies running in parallel to an evolving consumer demand for information, this event is a great platform to say what needs to be said, and push the agenda to think of the consumer solution first."
Key Speakers will include:

Steve Plumb, Head of Metering, Thames Water
Bill Brydon, Supply Demand Manager, Scottish Water
Erik Driessen, Innovation Manager, Vitens
Gerrit Rentier, Senior Business Process Analyst, Delta N.V
Ronald Pace, Manager, Water & Waste Water, Water Services Corporation - Malta
Andrew Tucker, Water Saving Manager, Energy Saving Trust
Allan Lambert, Managing Director, Water Loss Research and Analysis Ltd
William Webb, CEO, Weightless SIG
Dragan Savic, Head of Engineering and Director of the Centre for Water Systems, University of Exeter
John O'Flaherty, Project Coordinator, WaterBee
For those wishing to register there is currently a £400 early bird discount available as well as reduced rates for Utility companies. Details can be found at http://www.smart-water-systems.com
Smart Water Systems 2014
28 – 29 April 2014
Marriott Regents Park Hotel
London UK
http://www.smart-water-systems.com