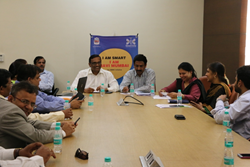 Navi Mumbai (PRWEB UK) 23 November 2015
The Navi Mumbai Municipal Corporation (NMMC), in its endeavor to engage with enlightened minds for the Smart City Mission, held a Smart Banking Connect at NMMC Headquarter, Belapur on 19th November 2015. The NMMC sought bright ideas and suggestions from the city's banking community for seeking avenues for smart banking for the citizens.
The event witnessed the presence of esteemed banking organizations like Bank of India, Bank of Maharashtra, SBM, Indus Ind Bank, Axis Bank, ICICI Bank, Yes Bank, Allahabad Bank, Bank of Baroda and Indian Bank.
The Navi Mumbai Municipal Corporation was represented by the Chief Accounts and Financial Officer D.M. Garad and Chief Auditor Suhas Shinde. Members present were enlightened on how Smart City Navi Mumbai can bring about a drastic change in the lives of residents due to improved banking.
The session was followed by the banking fraternity sharing ideas of smart banking for the smart city. Some of them included introducing incentives on e-payment of bills, collection of bills through mobile bank vans, smart gadgets and correspondents that can collect payment of the bills from slum and village areas. An idea of a smart mobile application and a smart NMMC card for payment of water, electricity, property bills etc from one point was discussed.
The Smart City Challenge is designed to inspire greater creativity from municipal officials and their partner ecosystem. The challenge invites for a more evolved 'Citizen-Civic' engagement, along with an overall development of proposals that will produce concrete benefits in people's lives.
Navi Mumbai's civic body has asked residents to send suggestions for smart city to the following address:
Municipal Commissioner, NMMC head office, plot no 1, Opposite Killa gaothan, sector 15A, CBD Belapur, Navi Mumbai - 400614.
Residents can also mail their suggestions on smartcity@nmmconline.com
Contact Details:
Rachana Chowdhary
9619776084
Pr.nmmc(at)gmail(dot)com