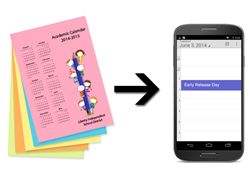 We wanted to help parents easily manage their work and personal calendars with their children's activities without having to learn a new tool.
(PRWEB) October 08, 2014
SmartCal is a new digital calendar solution that allows parents to easily organize their family calendar, along with their child's academic schedule, across all digital devices. Parents can effortlessly coordinate their work and personal calendars with important academic dates in mind, and view all schedules side-by-side.
SmartCal academic calendars include start and end dates, student holidays, early release days, and grading periods--all for less than $1 per year. With one click, events are imported to the subscriber's existing calendar app on supported devices (Apple, Android, Outlook, Google Calendar, and other calendar tools that allow ics files to be imported) so the dates do not need to be manually added. After subscribing, each user is able to add the specific calendar to as many supported devices as they wish. There are no apps to download, no passwords to remember, and it is very simple to use.
John Way, President and Chief Executive Officer of Innovative Way, remarked, "We created
SmartCal because working parents on our team and others in their circle were struggling to juggle all of their family activities. We wanted to help parents easily manage their work and personal calendars with their children's activities without having to learn a new tool."
Parents today strive for balance between work and family. In a 2012 survey and research by TheLadders, 55% of the moms surveyed agreed that the struggle for work-life balance can be overwhelming. 40% of working moms with children under 18 said they always feel rushed, according to a Pew Research Center survey.
Even children today are inundated with activities. School-age kids spend an average of five hours per week on organized extracurricular activities. Others log much more time – up to a staggering 20 hours each week – according to a Society for Research in Child Development report.
"Since the school calendar is so prolific among families with school aged children, we thought we would start there by creating academic calendars that have all the key dates parents will need. Feedback has been overwhelmingly positive from our subscribers, and they have asked that we provide calendars for other activities, such as sports, theater, scouts, etc. With that in mind, we will continue to explore and grow our capabilities to help parents coordinate their busy schedules in all areas," Way explained.
SmartCal offers subscriptions to over 250 K-12 school districts and 75 universities throughout the U.S., including those for larger public school districts in Florida, Texas, and California. The top 25 college football and men's basketball team schedules are also available.
To subscribe to individual K-12 school calendars and college academic calendars, visit http://www.smartcal.it/subscribe and select a state to see a list of currently available schedules.
To subscribe to 2014-2015 college football schedules, visit http://www.smartcal.it/college-football. College basketball schedules may be found at http://www.smartcal.it/college-basketball.
About SmartCal
SmartCal is a solution provided by Innovative Way that was created to help parents organize their schedules more effectively and to give organizations the ability to raise awareness, promote events and increase supporter participation.
For more information about SmartCal, visit smartcal.it or contact Rebecca Decker at support(at)smartcal(dot)it or (469) 606-0272.
About Innovative Way, Inc.
Innovative Way, Inc. is a business process consultancy that helps small companies work smarter and grow faster. They improve profitability through process management, infrastructure, and applications services.
For more information about Innovative Way, visit innovativewayinc.com.